This post is a little different than what I normally share on here but I thought it might be fun to branch out from crochet hooks and yarn to talk about something all of us do everyday, at least 3 times… and that is eat!  I always find it interesting to learn how other people meal plan, go about grocery shopping, and favorite go to recipes.  Sometimes I get into a slump where cooking at home just seems like too much at the end of a long work day, but right now I am also at the point where no food that I would go out a get would be any better.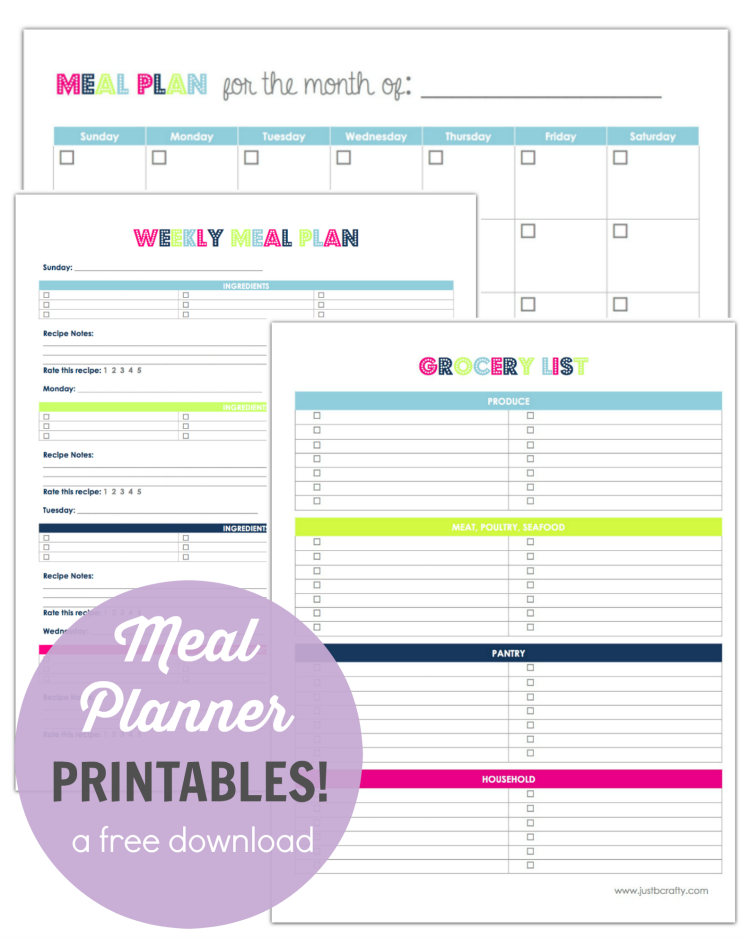 I designed these printables to inspire us to make more meals at home with whole, healthy ingredients and to save money while we are at it.  Trisden and I recently calculated the amount of money we spend each week on takeout/restaurant food and let me tell you, that number was a little scary.  It was definitely a wake up call that was needed to snap up us out of our bad habits and give us a big nudge to take the time to go grocery shopping and cook at home.
In addition to saving money, cooking more meals at home has contributed to an increase of energy and has been a huge mood booster!  Believe it or not we were doing well for two straight weeks with cooking every night (during the week).  Our goal is to cook at least five nights per week with a two meal allowance to eat out.  I know that two weeks may sound sad, but hey, at least it's a step in the right direction!  We got out of the groove this past week with my brother visiting because there are so many good restaurants around our town so I had to share them with my brother while he was here :).

MY LATEST VIDEOS
This week we have jumped back on the bandwagon, and I am excited to use this meal planning system to get us organized.  The way I plan to use this system will go as follows:
Plan out weekly meals for the month.  A week for us would probably look like a homemade meal for Monday – Thursday, dinner out on Friday and Saturday night, and a homemade meal on Sunday.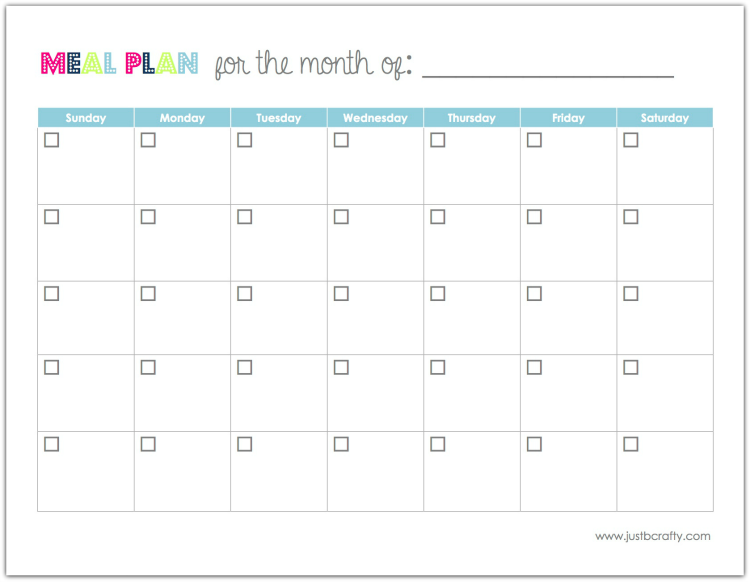 Each week, fill out the weekly meal plan sheet with the planned meals, ingredients and recipe notes.  This worksheet also makes for a great resource to document your favorite recipes with the rating system under each recipe!  Just circle the number 1 – 5 with 1 being totally gross and 5 being totally awesome!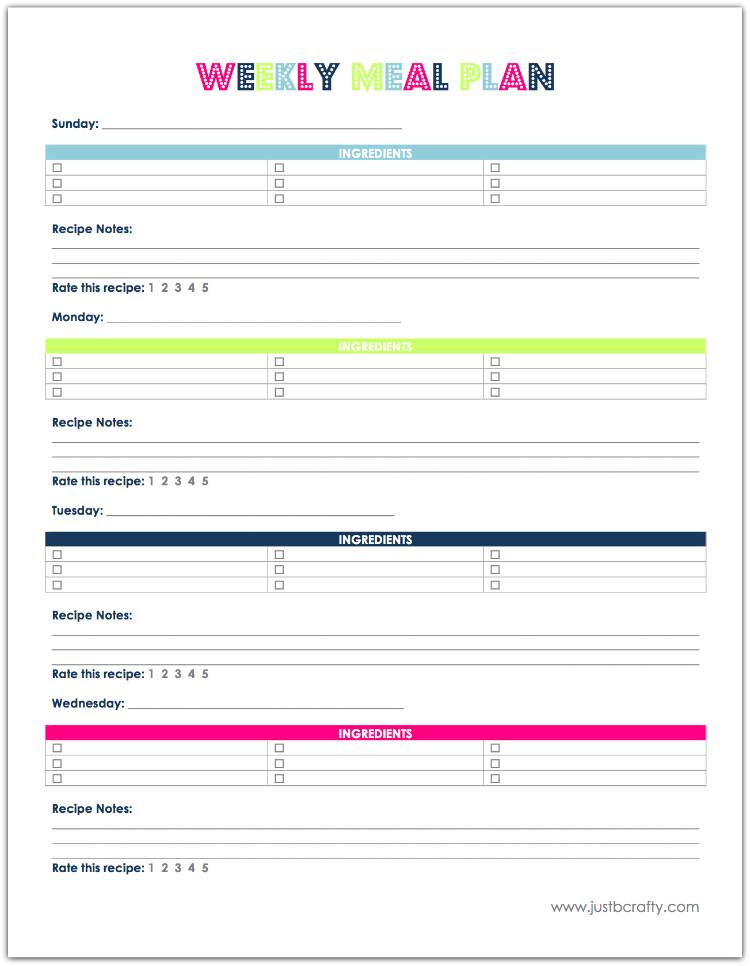 After the meals have been planned for the week, fill out the grocery list with all of the meal ingredients.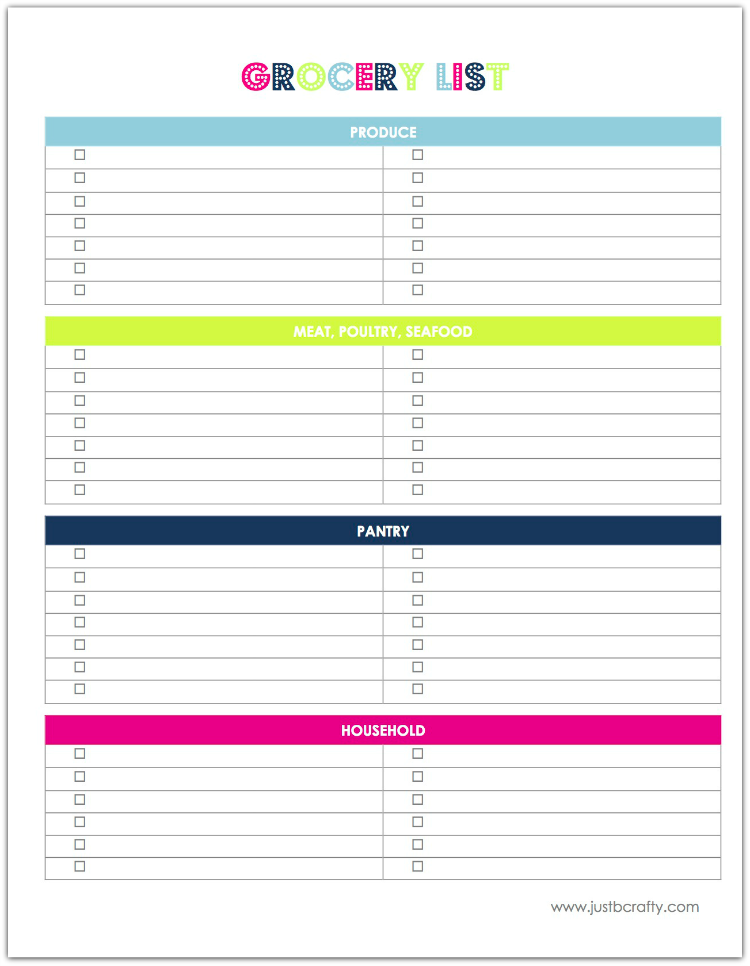 Now it's time to go grocery shopping in the most organized fashion possible!  No excuses to go to Chili's or grab some takeout!
I am always looking for new healthy and SIMPLE recipes.  Do you have any favorites that you would like to share???  Let me know in the comments! 🙂