Tips for Attaching Amigurumi Limbs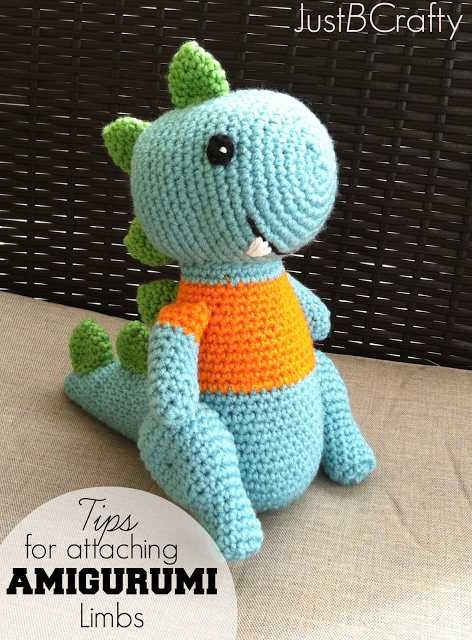 **Unfortunately this pattern is no longer available**  The pattern's author's site has been discontinued.
This weekend we are taking a trip back to Wilmington for Trisden's little cousin's birthday.  He's turning 5 this year which I cannot believe!  His cute little birthday invitation indicates he is into dinosaurs which is so exciting!  These prehistoric creatures hold a dear place in my heart because of Jurassic Park.
My brother and I were/still are obsessed with that movie, and we played it all the time growing up.  Because of my dino nostalgia, I decided that I wanted to make his gift this year instead of buying one and thought a little amigurumi dinosaur would be perfect!  I searched through a lot of patterns but had a hard time finding one I actually liked until I stumbled onto this pattern which ended up working perfectly.
I made a few modifications which included, using single crochets for the project instead of double crochets, I didn't add the fingers and toes, and I added two fangs (I used embroidery floss).   It turned out super cute and I hope he likes it!  Because I had so much fun making this little guy, there are lots of other little kids in my family that are probably going to be getting some amigurumi creations for Christmas!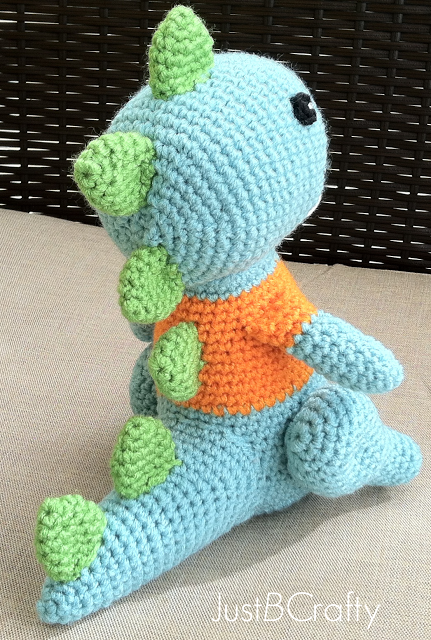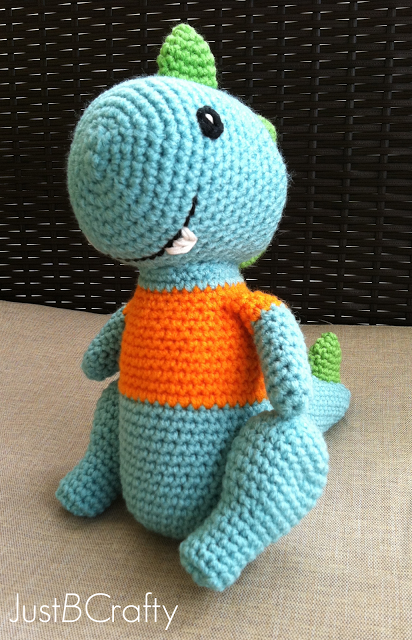 Crocheting amigurumi animals can be a lot of fun but when it comes time to attaching the limbs it can either make or break your project.  I don't know about you but when I spend at least 10 hours on a project I want it to look awesome.  Nothing annoys me more than when I put time into crocheting or knitting something and the finishing touches completely ruin it!
I used to have trouble with attaching limbs, and now that I have system for arm and leg assembly its not so bad.  To make assembling a bit easier I came up with a few tips that help me make sure all arms and legs go one easily and evenly.  Hopefully this will help you out on your next project too.
Tips for Attaching Amigurumi Limbs
1.  MEASURE
Find a common point on the doll and measure to where you want the limb to start.  For example, my common point was the spike on the dino's back.  I decided I wanted the arm to start one inch on either side from that point.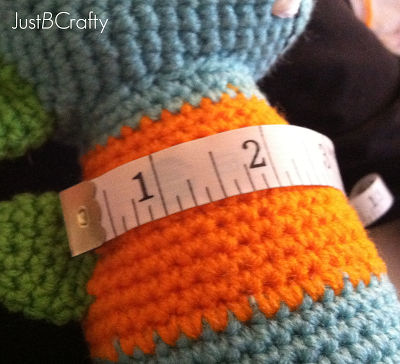 2.  X Marks the Spot
Mark the spot you just measured to with a place marker.  Then line up the first edge of your limb with the place marker and attach another place marker where the limb ends.
3.  FOLLOW THE ROW
Follow the crocheted row you just marked to the other side of your project for placement of the other limb.  Repeat steps 1 and 2 to measure and mark the spots with two more place markers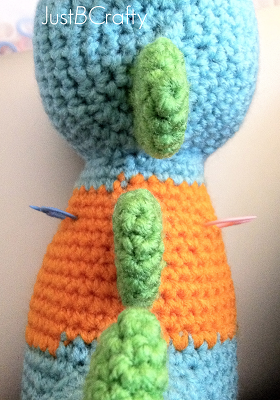 4.  STITCH
Use whip to attach the limb and pull your stitches really tight, making sure your first and last stitches are where your place markers were.  And tie off your tail under the arm.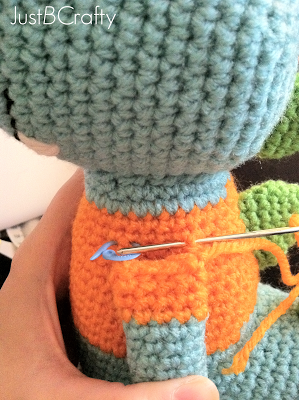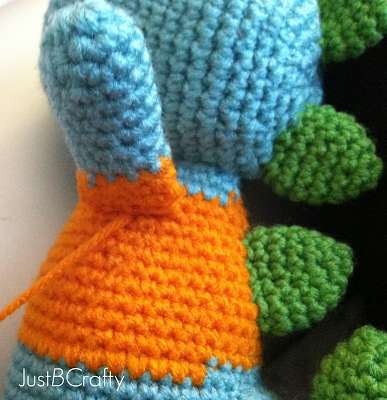 5.  TAKE YOUR TIME!
The most important tip I have is to just take your time!  You'll be amazed by how much better your project will turn out if you just take your time with assembling.
I hope these tips help you out the next time you tackle an amigurumi project, and if you have any tips of your own please share!
If this post was helpful or inspiring, like JustBCrafty on
Facebook
!