The Green Meadows Crochet Scarf Pattern features Red Heart Super Saver Ombre Yarn.  The subtle monochromatic color change gives the piece a beautiful and unique look!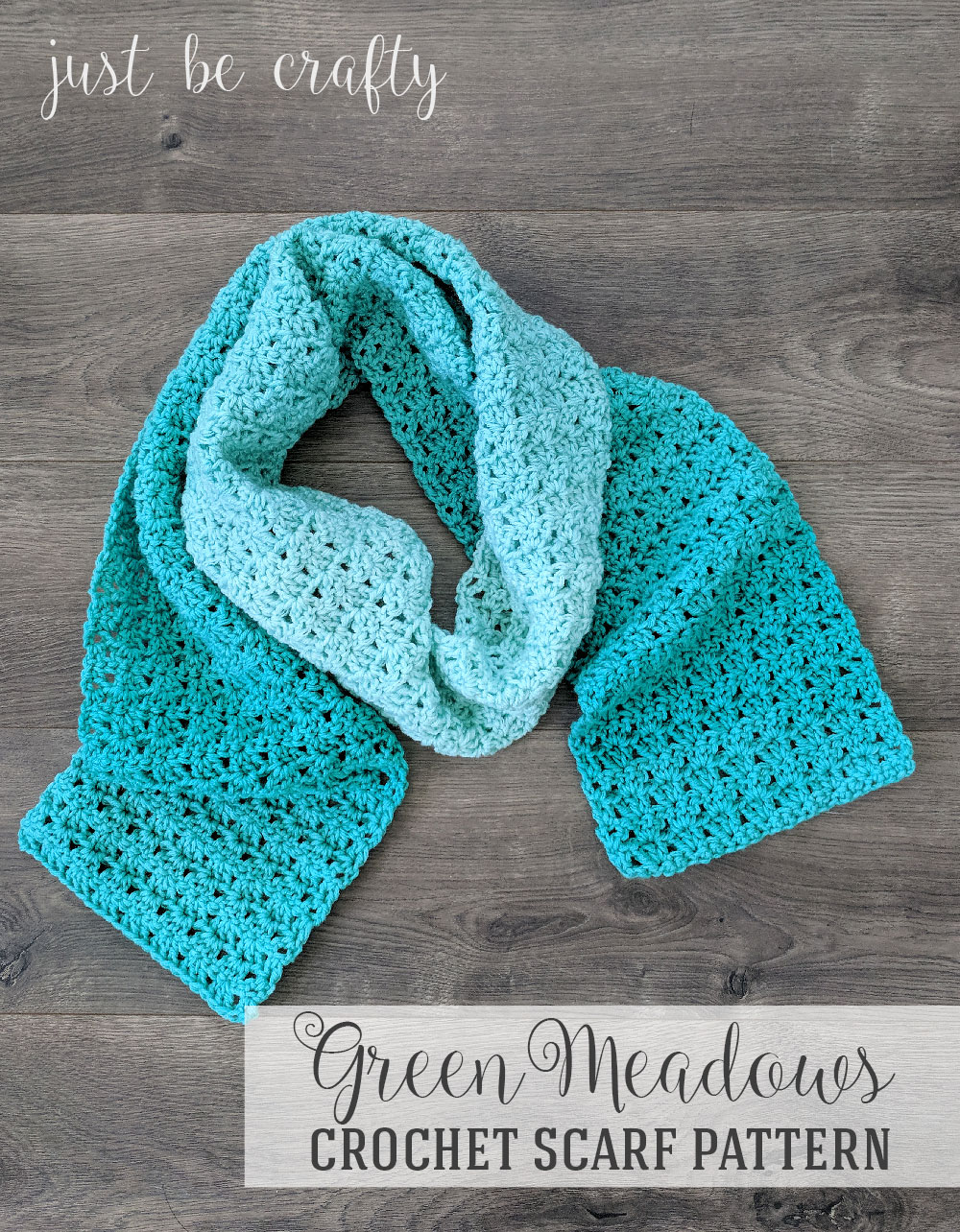 Hello and welcome back to my blog!  Over the past couple weeks I've been cooking up this super fun and simple scarf pattern.  The pattern features a stitch that I am not really sure what it's called or if it already has a name, but I am dubbing "Modifed Granny Stitch".  (If you know the proper name of this stitch, let me know in the comments below!)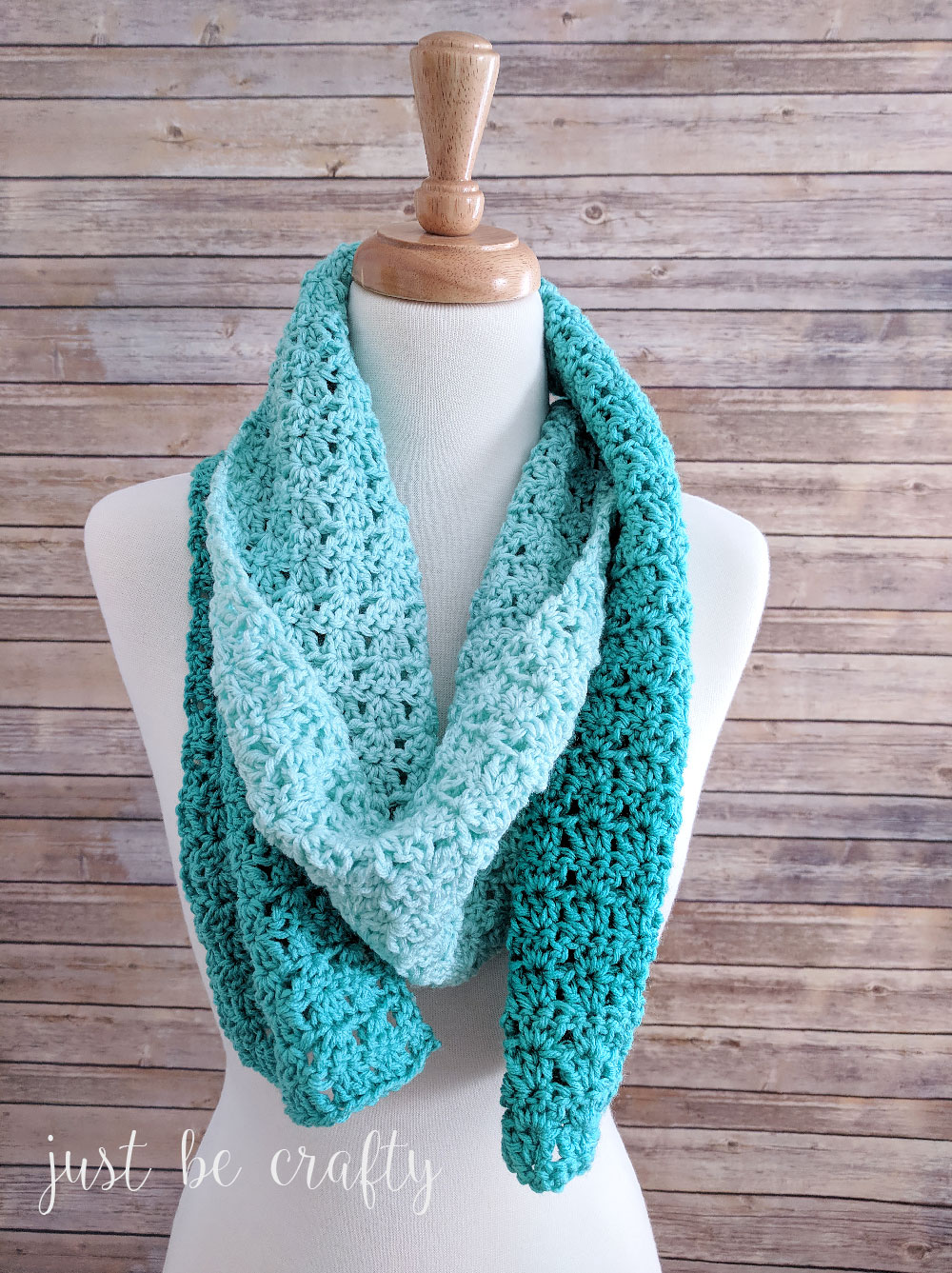 The stitch is created by making clusters of 3 dc's as you would in a granny stripe pattern, but instead of making the clusters in each cluster space, the clusters are created in the center dc stitch.  If this sounds confusing, I promise it's not… you'll just have to follow the pattern!
The end result is a beautiful lacy texture that makes for a warm yet breezy piece which is perfect for the transition from Winter to Spring!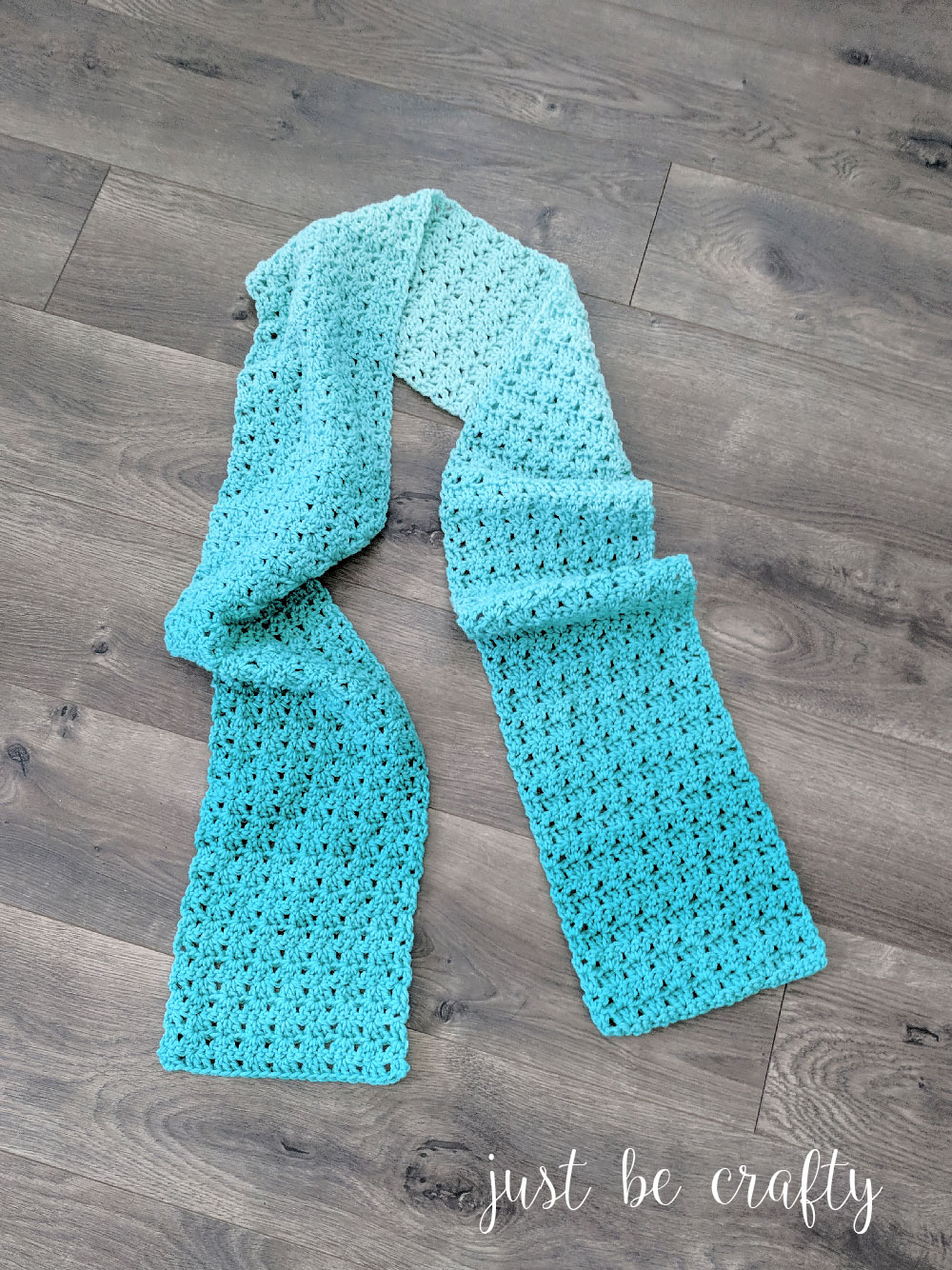 I had a lot of fun making this project.  Work has been particularly busy lately so it's been at treat to look forward to coming home and curling up on the couch to work on this relaxing mindless project.
To make one yourself, keep scrolling below to find the free pattern!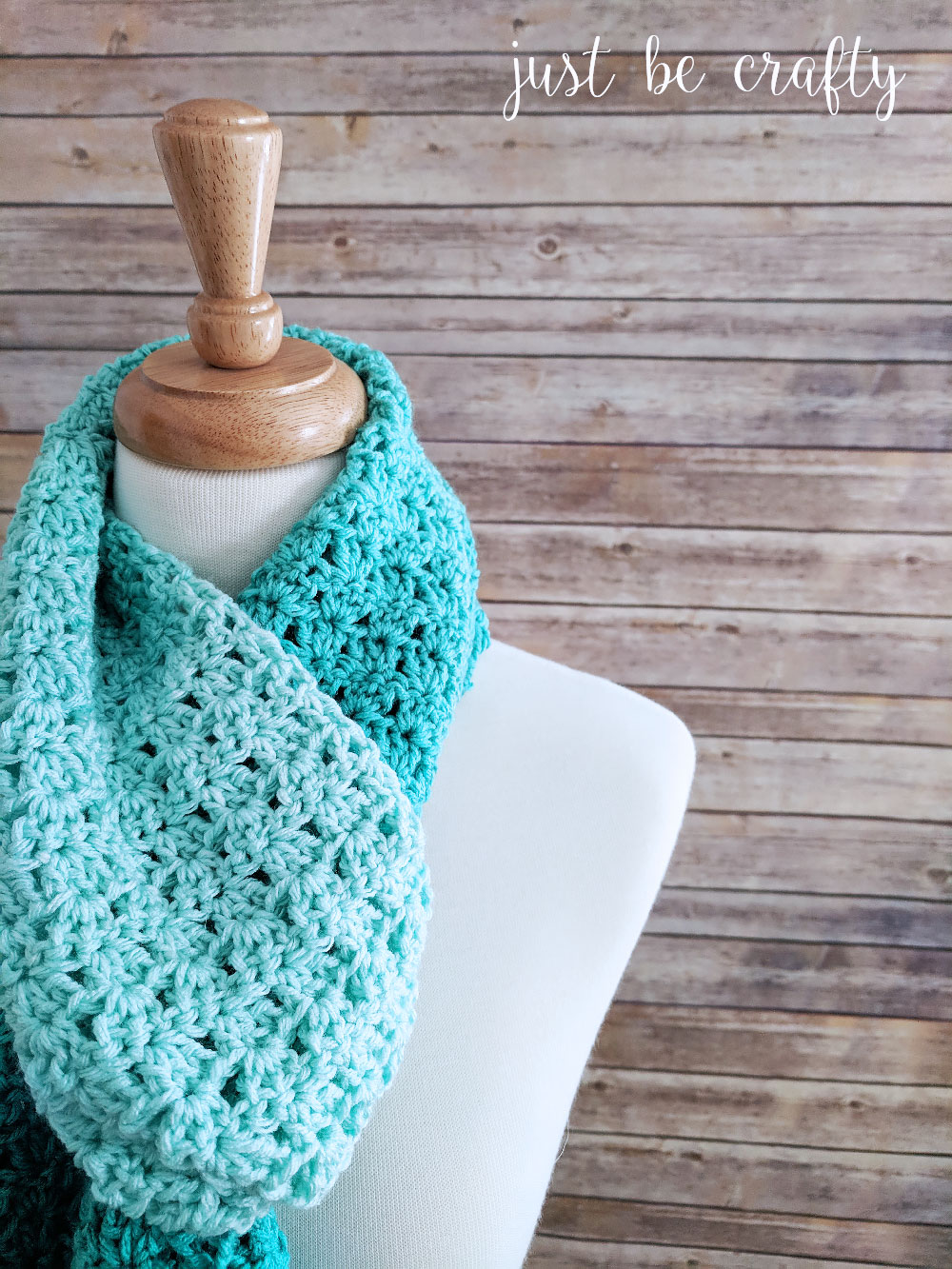 Green Meadows Crochet Scarf Pattern
Materials
Finished Measurement
Approximately 7 inches wide by 78 inches long
Gauge
Gauge is not important for this project
Key
ch – chain
dc – double crochet
sc – single crochet
sk – skip
st – stitch(es)
Pattern
Chain 26
Row 1: Starting in the 2nd ch from hook, sc in each ch across row, turn. (25)
Row 2: Ch3, dc in same st as ch 3, *sk 2 st, make 3 dc in next st, repeat from * 6 more times; sk 2 st, make 2 dc in last st, turn. (25)
Row 3: Ch 3, dc in same st as ch 3, *sk 2 st, make 3 dc, repeat from * 6 more times; sk 2 st, make 2 dc in 3rd ch of ch 3 from previous row, turn. (25)
Repeat Row 3 until piece measures approximately 78 inches or desired length.
Cut yarn and weave in ends.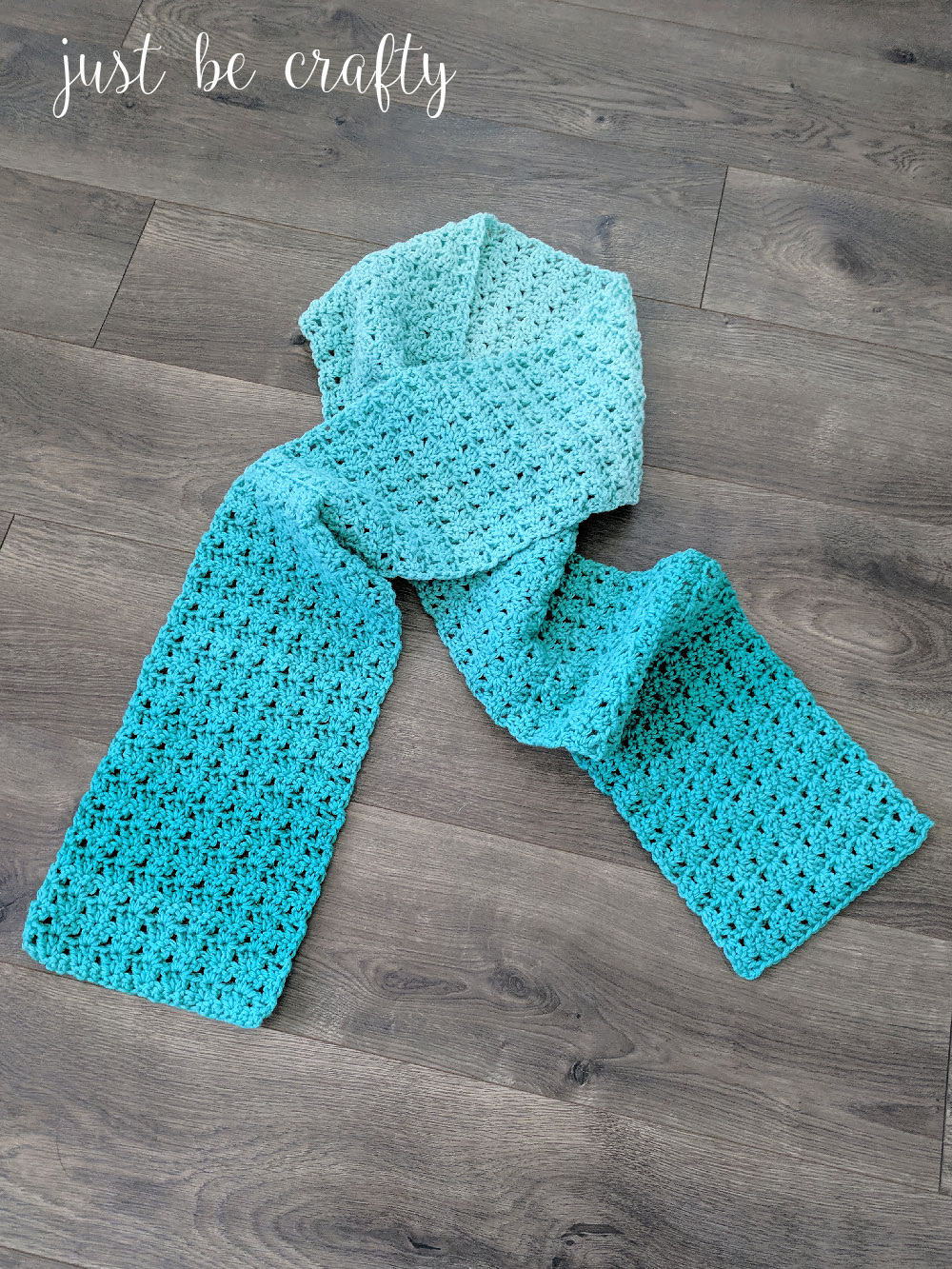 Enjoy!