The Crochet Twisted Ear Warmer Headband makes for the perfect gift for any woman in your life!  Learn how easy it is to make by following along with my step by step video tutorial!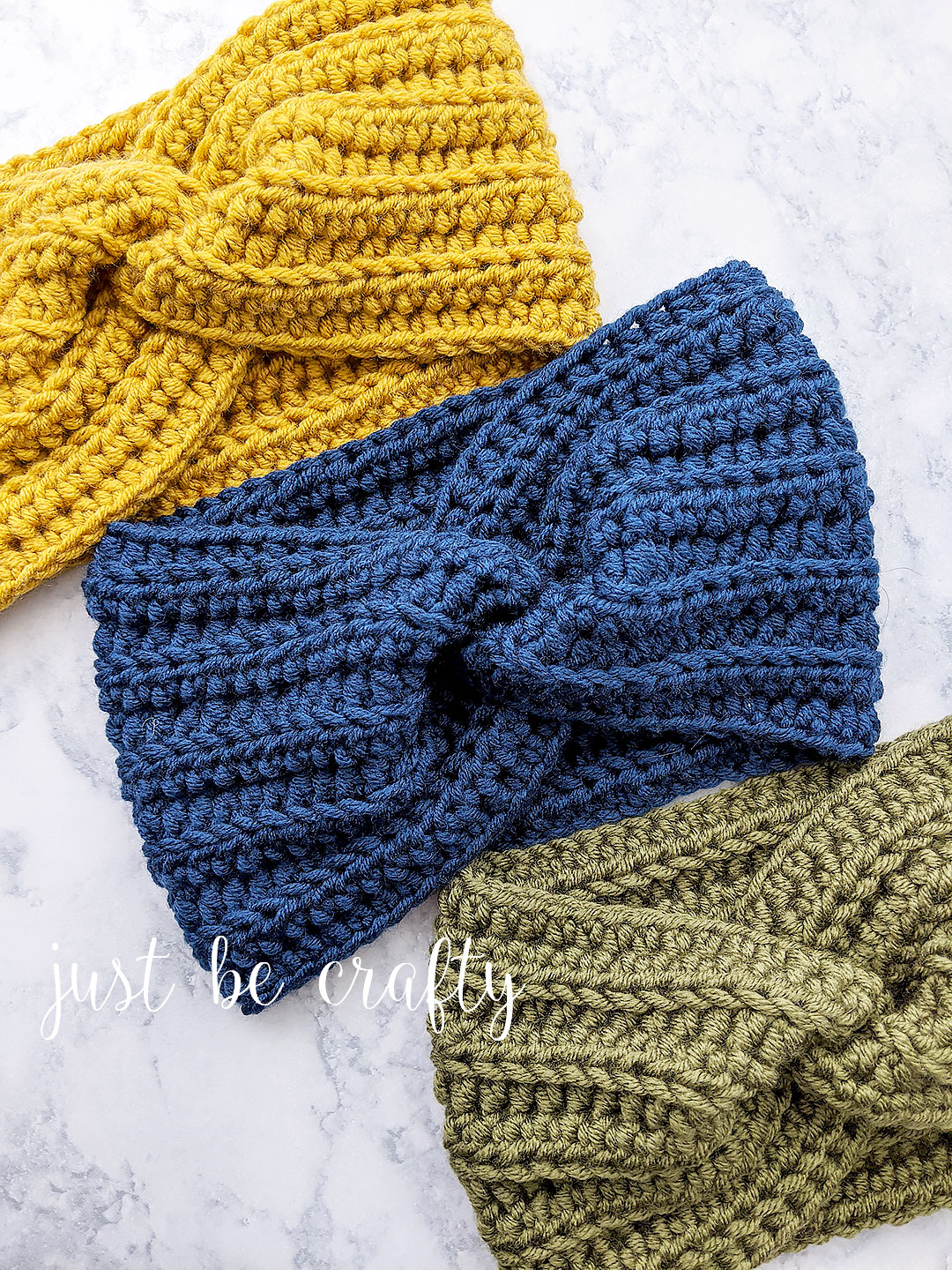 Hello and welcome back to my blog!  And if your new I'm so happy you're here!  If you haven't already be sure to subscribe to my email list so you can be the first to know of my newest patterns!  Today we are making a super fun project, the Crochet Twisted Ear Warmer Headband!
I love these headbands because not only are they super cute and trendy, but functional as well!  They are super warm, and will keep your ears nice and toasty throughout the winter.
To learn how to make your own, keep on reading below!
Crochet Twisted Ear Warmer Headband Video Tutorial
The Crochet Twisted Ear Warmer Headband Tutorial is geared for intermediate beginners and higher and assumes you already know the following skills:
chaining
half double crochet
That's it!  Once you've mastered those two skills, I'm confident you can tackle this pattern!
Below you'll find both left and right handed tutorials!
Right Handed Tutorial
Left Handed Tutorial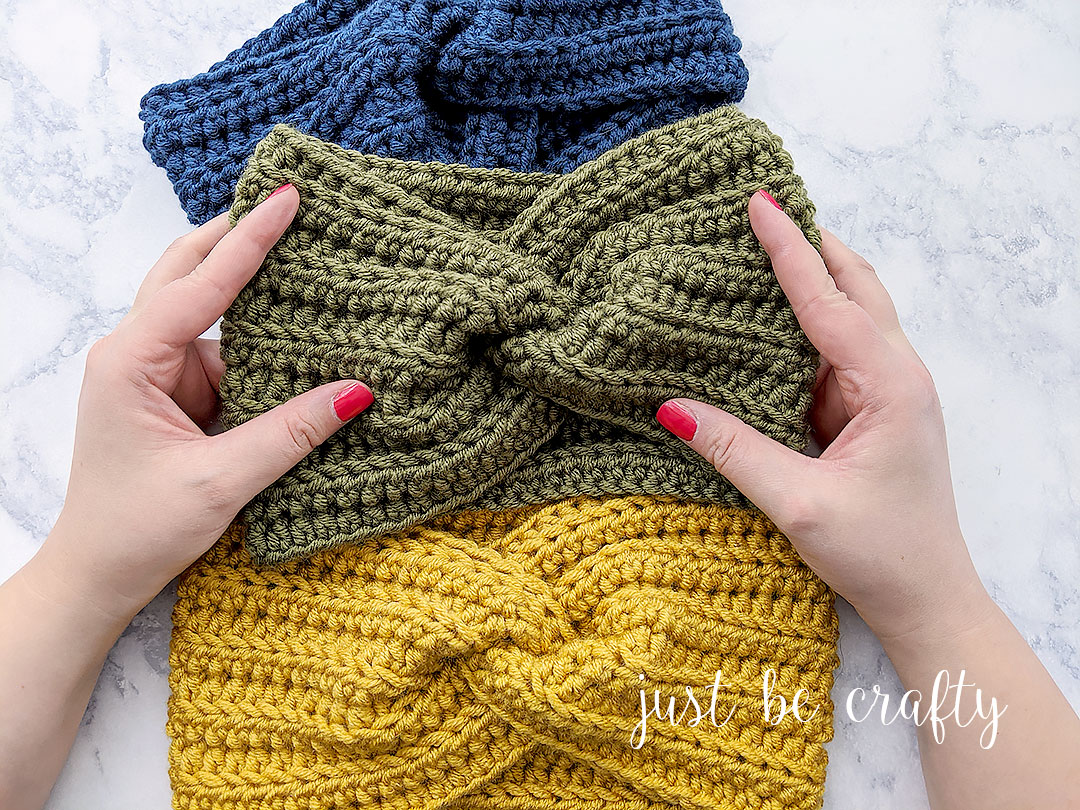 Ad free printer ready pattern PDF will be available for purchase soon!
Crochet Twisted Ear Warmer Headband Written Pattern
*This post may contain affiliate links.  Please see my disclosures page for more information.
All patterns on this blog are for personal use only and may not be redistributed, copied, blogged, or sold as your own.  You may sell items made by my patterns as long as the item is made by you personally (not mass produced) and that proper credit is given back to me and my site, Just Be Crafty. You may not use my photos for your online sales listings. 
For more information please see my Pattern Permissions Page.
Materials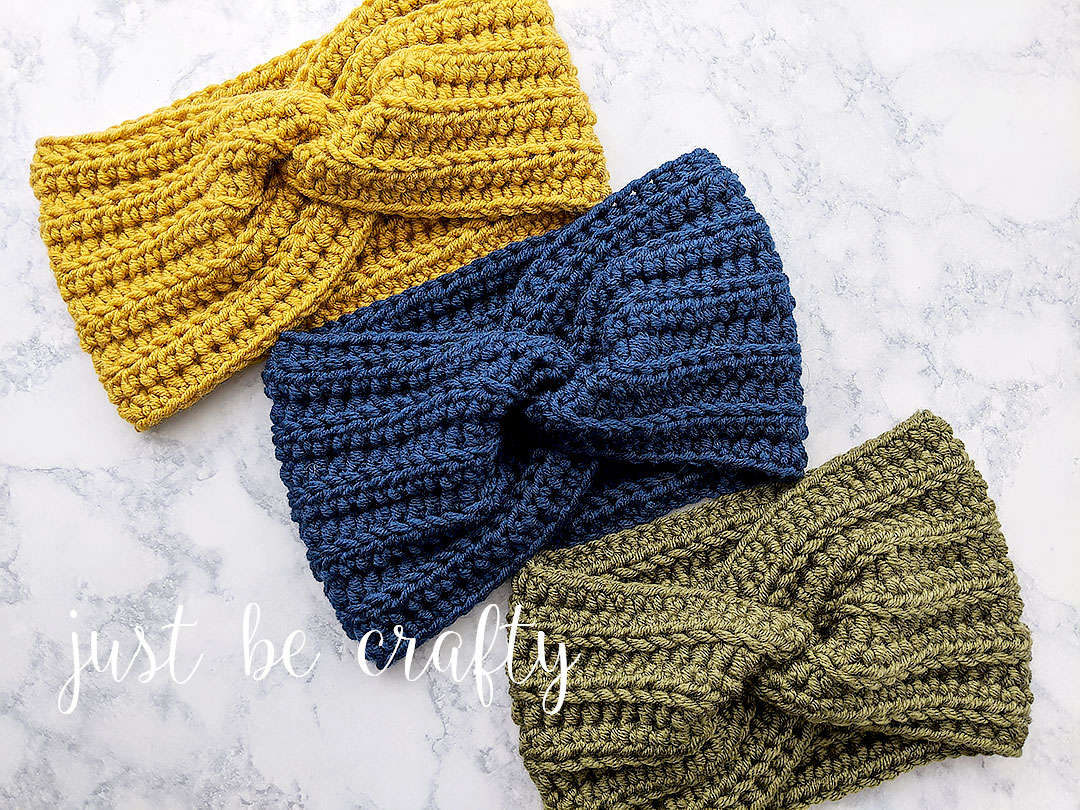 Gauge
12 stitches by 8 rows = 4 inches in half double crochet ribbing
Sizing, Finished Measurements & Customization Information
| Size | Head Circumference (in inches) | Suggested Foundation Chain Length | Finished Measurement (assembled & flat) |
| --- | --- | --- | --- |
| Child | 18 | 53 | 8.5 inches by 4.5 inches |
| Teen | 19 | 56 | 9 inches by 5 inches |
| Women's Small | 20 | 59 | 9.5 inches by 5.5 inches |
| Women's Medium | 21 | 62 | 10 inches by 5.5 inches |
| Women's Large | 22 | 65 | 10.5 inches by 5.5 inches |
Customize Your Ear Warmer
The number of chains is not really important.  You just want to make sure that your foundation chain measures 1 inch less than the desired head measurement.
Once you complete the first couple rows, the width of your flat piece should match that of the head measurement.
For a more snug fit, size down.
Key
ch – chain
hdc – half double crochet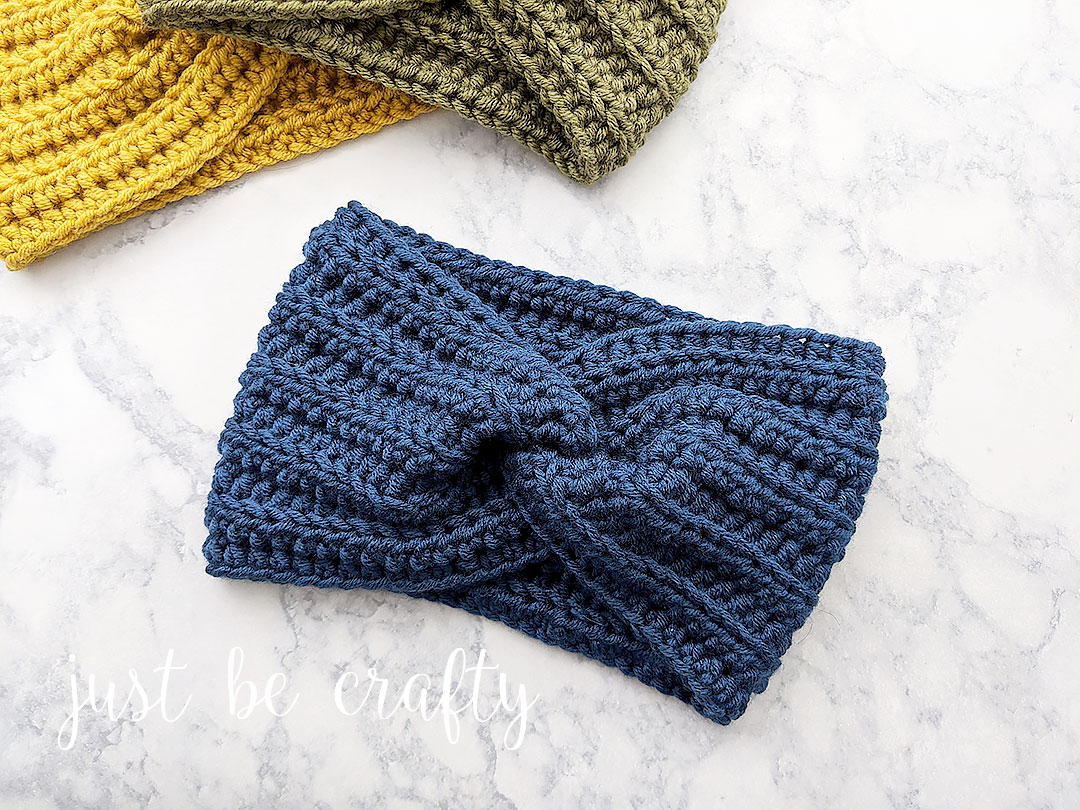 Pattern
Ch 53, (56, 59, 61, 65)
Row 1: Starting in 3rd ch from hook, hdc across row in back bar of chain, turn. (this length should be head measurement)
Row 2: Ch 2, hdc in back loops only across row, turn.
Child Size Only:
Rows 3 – 9: Repeat Row 2
Teen Size Only:
Rows 3 – 10: Repeat Row 2
Women's Small, Medium, and Large sizes:
Rows 3 – 11: Repeat Row 2
Cut yarn leaving an arm's length tail and secure.
Assembly – all sizes
See video tutorial for how to assemble your ear warmer.
Weave in all ends.
Enjoy!