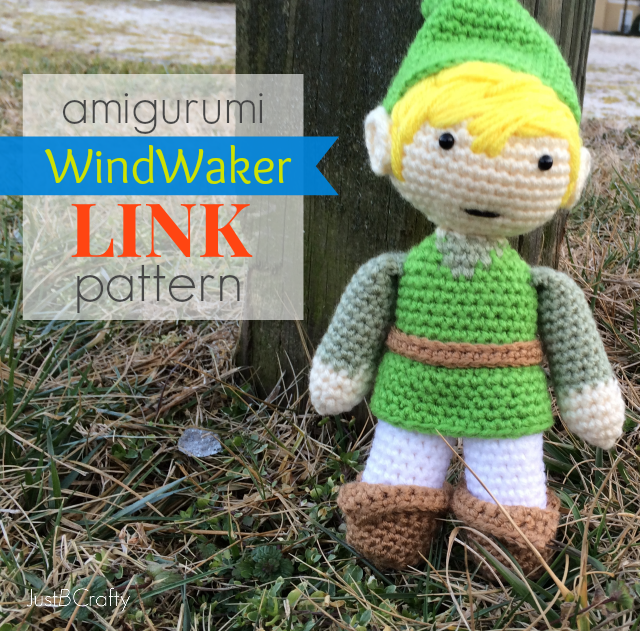 The weather was super crazy last week with snow, sleet and ice.  Normally I would love myself a good snowstorm but it totally messed up my Valentine's Day craft making plans!  But let's first back it up so I can give you a little back story.  Trisden is a huge Legend of Zelda fan (a Nintendo video game for all you non-nerds, haha) so I figured Valentine's Day would be the perfect opportunity to crochet up his favorite character from the series, Link.
I knew it would take about a week for me finish him up.  I started the project on Monday knowing that if I would peck away at the project a little each day while Trisden was at work, it would for sure be done easily by Friday.  Or…so I thought.
By Tuesday I was right on schedule and Link's little head was completed.  The plan was to get the majority of his body done on Wednesday afternoon as I only had to work a half day.  Then, the storm of the century hit the Carolinas.  Or, at least it was the storm of the century for the Carolinas.
Basically the second it started snowing businesses shut down and everyone left work to head home at the EXACT same time causing inevitable traffic jams and backed up intersections.  Trisden and I were both sent home early due to the weather and it ended up taking up us 5 hours total to get home!  Note that it's normally about a 10 minute commute.
To wrap up the story, Trisden ended up having off on both Thursday and Friday because of the weather so I had to keep sneaking off in little spurts to crochet as to not tip off I was making him something.  I at least got the project done in time, but had to really power through and crochet when he wasn't paying attention.  He ended up occuping himself with some computer games and was completely oblivious as to what I was doing (he, he, he) so it all worked out.  Whew!
And…he loved it!  I enjoy giving him handmade gifts on Valentine's Day especially and nothing says I love you more than a 15 hour amigurumi project.  Each stitch is crafted with love!
Inspired to go make your own??
Note: This pattern assumes you have a basic understanding of amigurumi and would be considered a more intermediate to advanced skill level project.
The Legend of Zelda: Wind Waker Link Pattern
To make this cutie, here's what you'll need:
-worsted weight acrylic yarn: grass green, pale green, yellow, peach
-stuffing ( I use scrap yarn)
-small piece of black yarn (for the mouth)
TIP: To track your rounds, mark the last stitch of the round with a marker. Then when you reach back around to the stitch marker, remove it and crochet the stitch and replace the maker.
In ring: 6 sc, dc, tc, dc
Cut yarn leaving a long tail.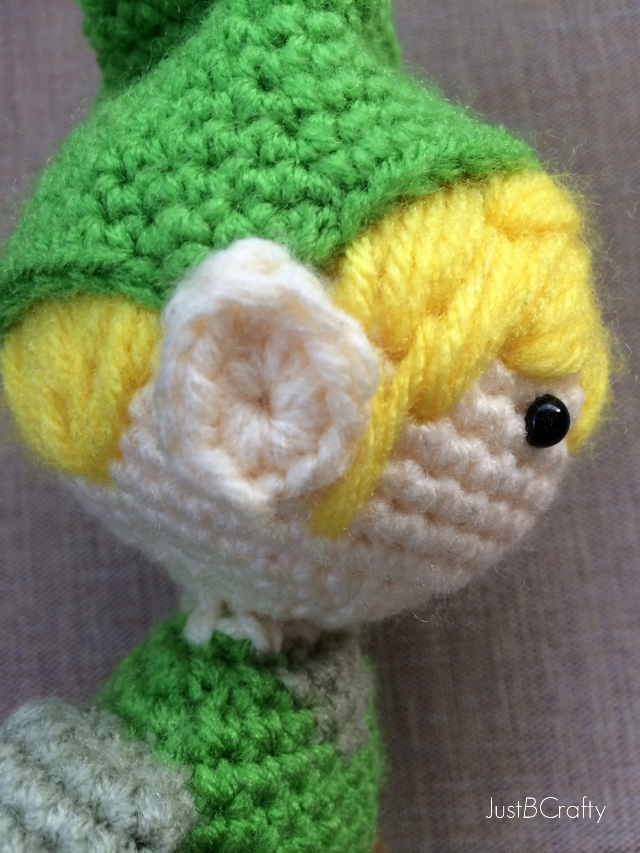 Place the eyes and ears.  Use the picture as a guide.
Using the yellow yarn, stitch on the hair.
Secure, and cut yarn leaving a long tail.  Stitch up hole.
inc every other stitch (12)
2 sc in first sc, sc in next 5 stitches, 2 sc in sc, sc to end (14)
Repeat for leg #2, but DON'T cut the yarn
Line up the two legs side by side with the last stitches facing each other.  Take those two stitches and join them with a single crochet.  Place a stitch marker in that stitch to mark the beginning of the round. This will be Link's backside.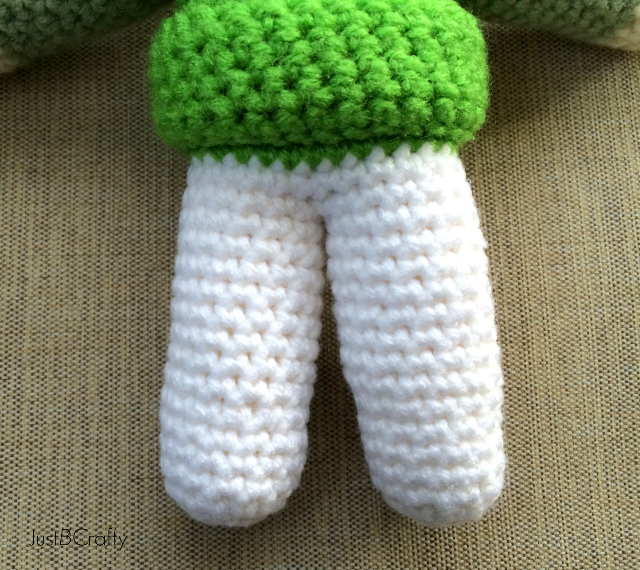 Sc around the first leg, along the back of the second leg until you reach back around to the stitch marker.  Technically there should be 24 stitches (14 from each leg) but there may have been a stitch accidentally added or lost, but thats ok, no biggie!
Sc around.  cut white yarn and attach green.
ch 1 and turn, you will now be crocheting in the opposite direction. Sc around in outer loops (you will be single crocheting in the outer loops for this round only)(28)
sc to the middle side of Link's first thigh, inc, sc to the middle side of Link's other thigh and inc.  sc to the end. (30)
sc for 4 rows, cut yarn.  Secure and weave in the tail.
The flap should now look like a skirt over Link's white pants.
Go back up to the top of the green flap, where you had orignally started.  You will now be crocheting normally in the direction you had been for the majority of the project.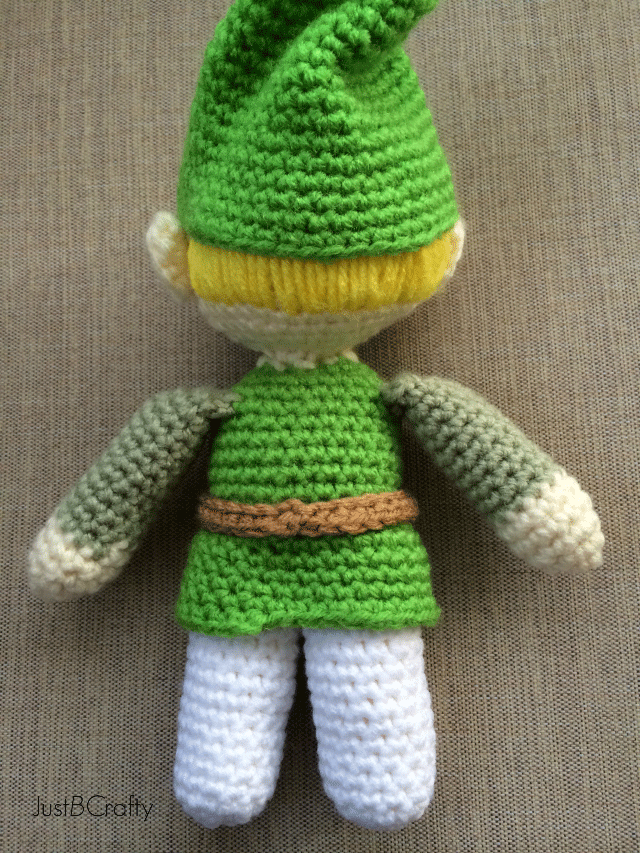 Sc in each of the inner loops of the top of the green flap.  (28)
Sc around for 6 more rows
sc to first side of the body (where his shoulder will be); dec, sc to other side where the other shoulder would be and dec, sc to end (26)
sc to side, dec, dec, sc to other side, dec, dec, sc to end (22)
dec every other, cut green yarn, attach cream yarn.
dec every other, secure and cut yarn.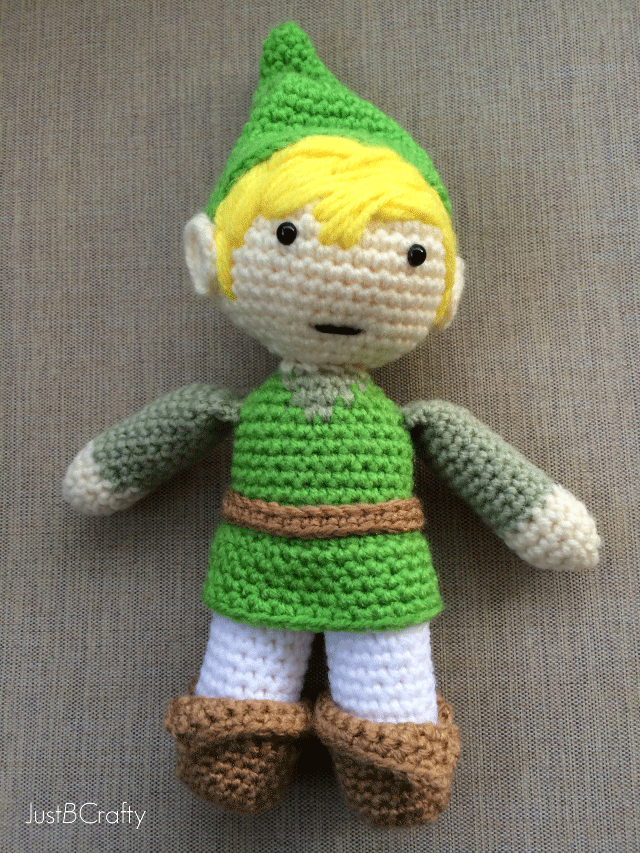 sc 2 more rounds, cut cream and attach pale green yarn
Stitch end closed, secure and cut yarn leaving long tail.
secure, cut yarn leaving long tail.
Sew hat to Links head behind his ears.
ch 5, sc in 2nd ch from hook, sc to end (4)
ch 1, turn, 2 sc in 1st sc, sc 2, 2 sc in sc (6)
sc in rows for 6 more rows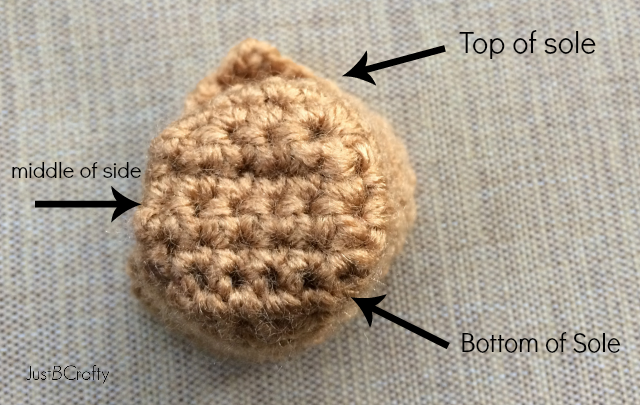 sc around the outer edges of the sole to form the sides of the shoe.
sc around for 3 more rounds
work in rows; sc across the back of the shoe to the center of the side of the shoe, ch1 turn and sc around to the end of row, ch1 turn
work in back and forth for 6 more rows; secure and cut yarn.  Weave in ends
Repeat directions for left boot but work the rows starting on the opposite side.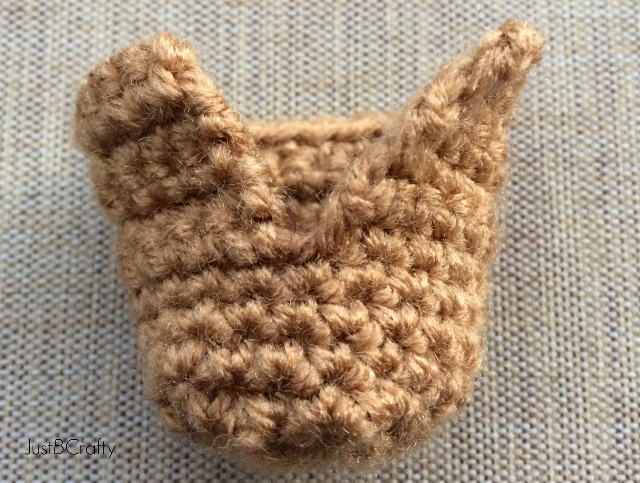 Slide the shoes on Link's feet.
ch 30, sc in 2nd ch from hook; sc to end.
Wrap belt on Link and join both ends of the belt with a slip stitch.  Attach to his body.
Take yarn needle and black yarn and stitch on a smile for the mouth.
Need some help with attaching the limbs?? See
this post
here for some helpful tips!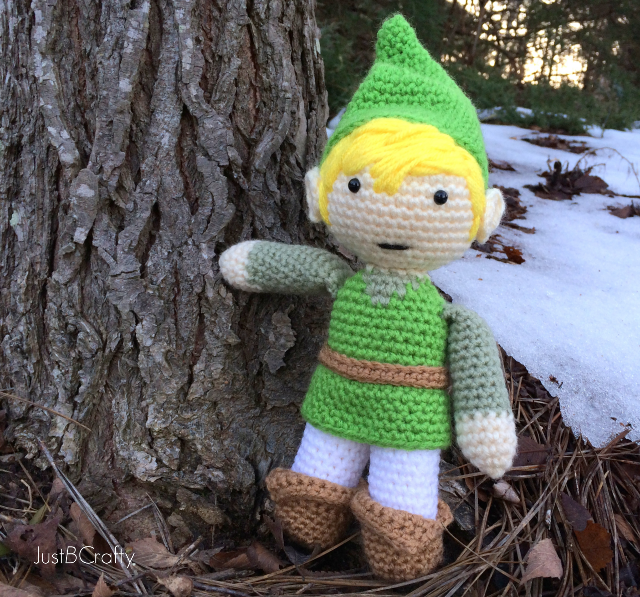 Enjoy you newest amigurumi friend!!!