Crochet Textured Dishcloths
Add some personalized character to your kitchen with this adorable crochet textured dishcloth pattern.  Made with 100% cotton yarn, these dishcloths provide the durability you need to tackle tough messes!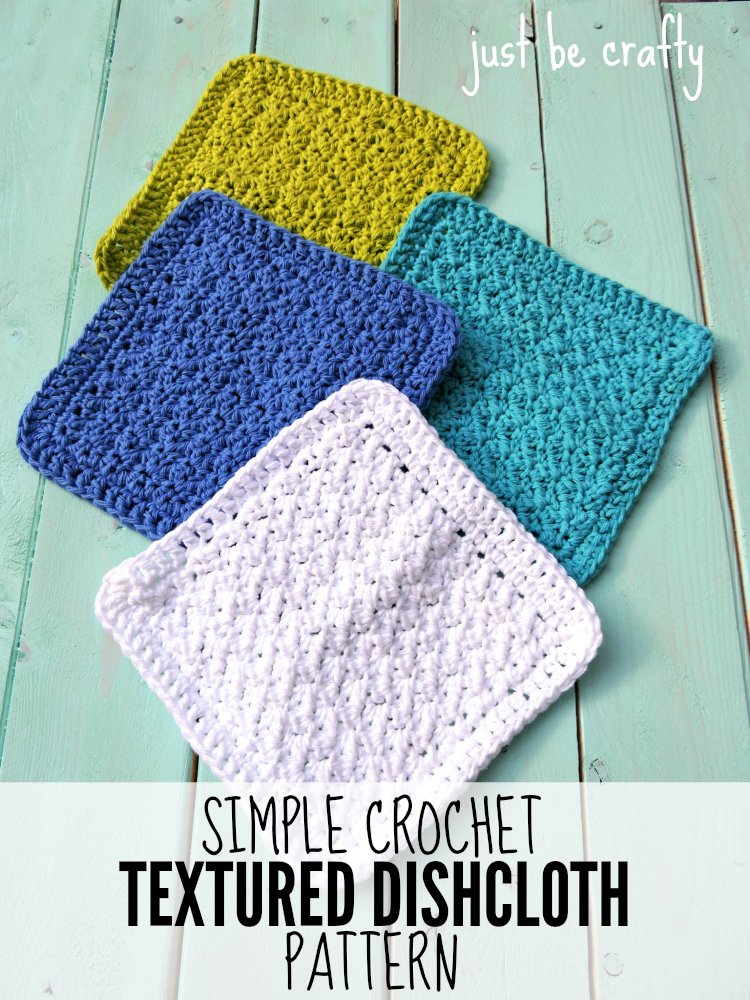 This post contain's affiliate links.  For more more information please see my disclosures here.
Hello, and welcome back to the blog!  I'm super excited to share my first crochet dishcloth pattern design with you today!  The dishcloths are made with Lily Sugar'n Cream yarn… my absolute favorite yarn for dishcloths that I have come across so far.
The texture created from the combination of crochet stitches makes a thick and thirsty fabric that's perfect for a dishcloth OR facial washcloth. And, the nice thing about them is they look kind of complicated (but aren't at all! :)) AND they whip up pretty fast!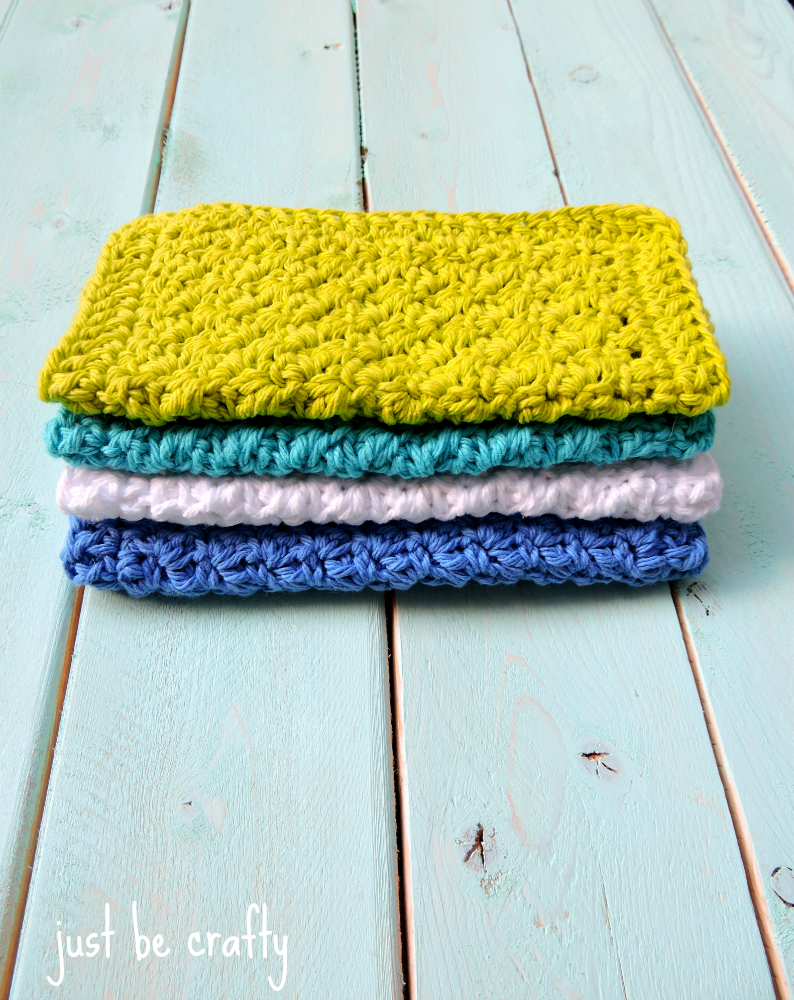 See below for how to make your own!
A printable PDF version of this pattern is available for purchase here in my Etsy Shop.
See video tutorial below!
Crochet Textured Dishcloth Pattern
Materials
Key
ch – chain
sc – single crochet
dc – double crochet
Finished Measurements
Approximately 7 inches by 7 inches
Pattern
Dishcloth Body
Chain 21
Row 1 – In 2nd ch from hook, make a sc, and dc in next ch; keep alternating sc and dc in each ch until you reach the end of the row; ch1 and turn.
Row 2 – skip the 1st stitch, sc AND dc in next stitch, *skip a stitch, sc AND dc in next stitch; repeat from * to the end of the row; ch 1 and turn.
Rows 3 – 15 – repeat row 2
Dishcloth Border
Round 1 – beginning with the ch 1 from the previous row, make 3sc in the first stitch, sc across until you reach the last stitch, make 3sc in the last stitch of the row.
**You will now be working in rounds around the outer edge of the dishcloth to make the border.**
Sc along the side of the dishcloth making 17 stitches evenly along the side edge.
Once you reach the bottom edge, make 3 sc in the 1st stitch along the bottom edge and sc in each stitch across the bottom until you reach the last stitch of the bottom edge, make 3 sc.
Sc along side of dishcloth, making 17 stitches evenly across the side.  Once you reach the end, join with the 1st stitch of the round.
Round 2 – ch 2, dc in same stitch as the ch 2, and 3 dc in next stitch (this is the corner stitch), dc in each stitch until you reach the next center corner and make 3dc.  Repeat this process to the next two corners until you reach the end, and join with the first dc of the round using a slip stitch.
Cut yarn and weave in all ends!
Enjoy your new dishcloth!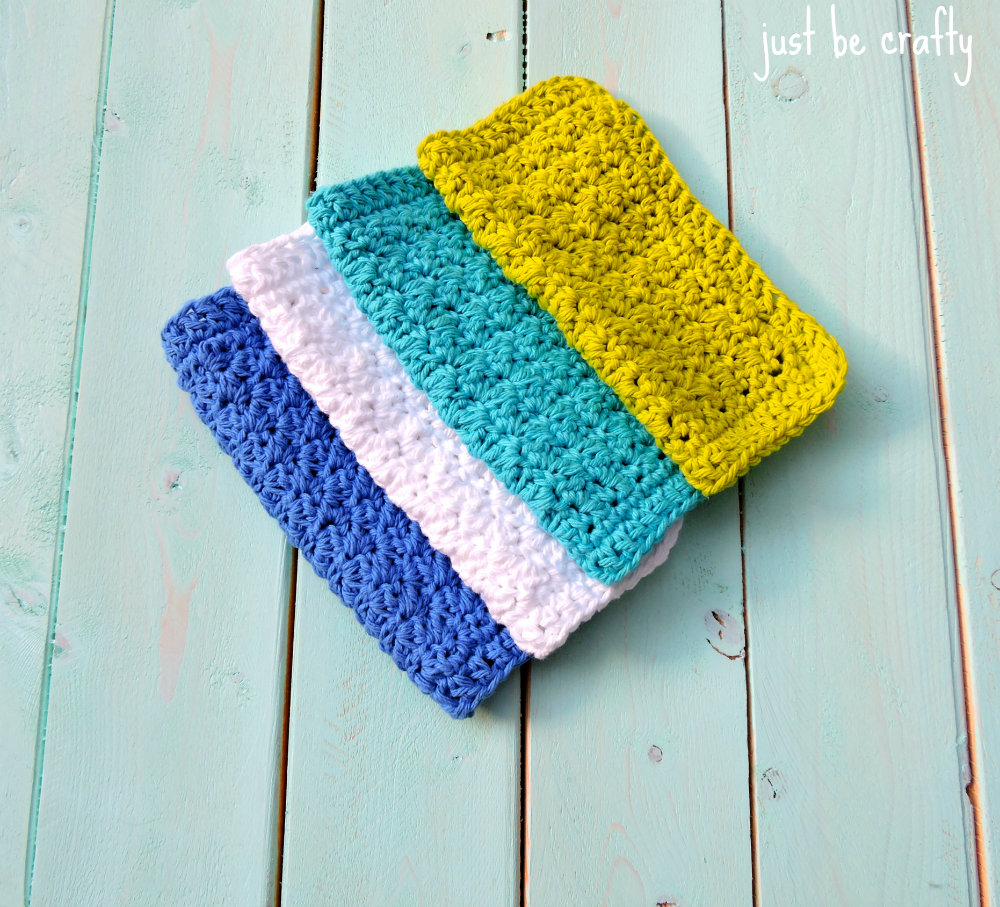 Do you think you'll give the crochet textured dishcloth pattern a try?!  Let me know in the comments below!