The Cotton Candy Knit Scarf is a must-make for the fall and winter months.  The best part is that it's made with bulky yarn so it knits up super fast – you'll have a finished project in no time at all!  The ad-free printable version is available here.
Yarn
The yarn used for the Cotton Candy Knit Scarf pattern is Lion Brand's Thick and Quick in the color Carousel.  I love using the Thick and Quick variety for cool weather projects because not only does it work up super fast but its also really soft, squishy and toasty warm!
I found this yarn on a grocery trip to Walmart and knew I just had to have it!  I hadn't yet seen this colorway at other stores so I decided to go ahead and grab three balls.  I will say that I don't particularly like buying yarn at Walmart because with a coupon I can usually get my yarn cheaper elsewhere.
Though as I am typing this, I know that Walmart price matches… but do they price match coupon prices??  Hmm… let me know if you have tried this before at Walmart, I'm curious!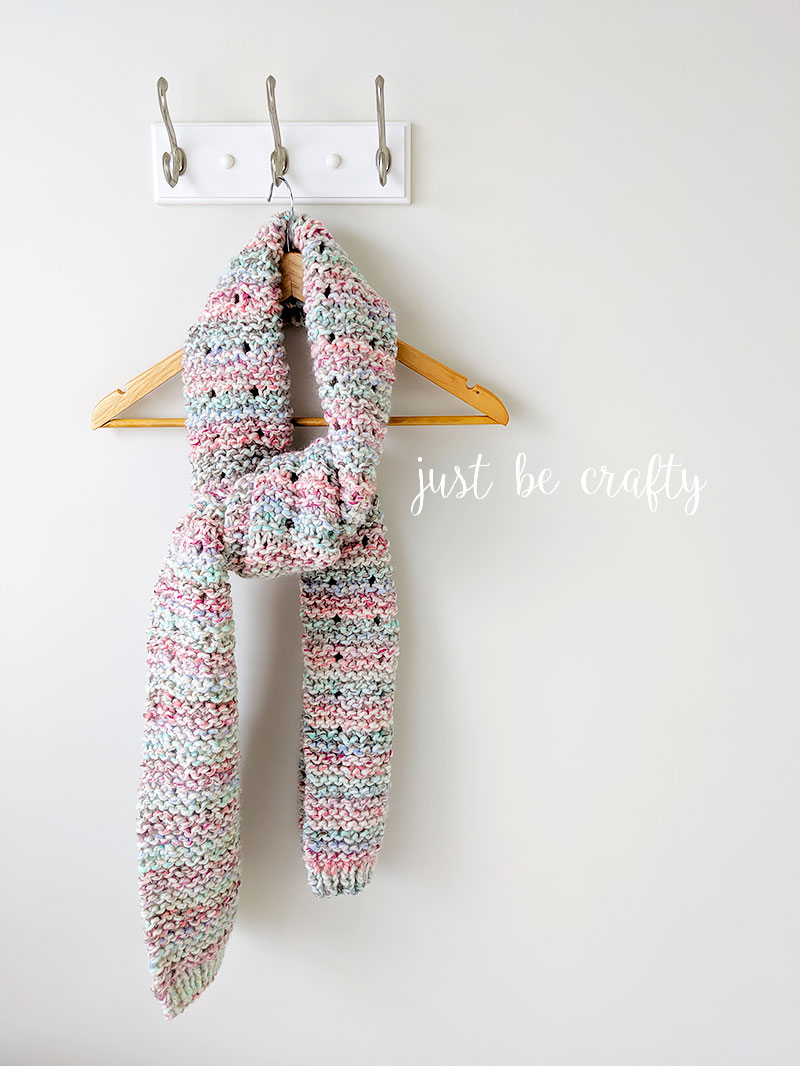 Stitch
The scarf is simple in design in that the body is comprised of an eyelet garter stitch.  Garter stitch is a reversible fabric that is worked up by completing the knit stitch on both the front and back of the work.
To break up the design a bit I decided to add a small eyelet detail to give the scarf more visual interest.  If you like the eyelet detail on this scarf you might like the Star Dust Knit Scarf I designed a couple years ago as well.  Be sure to check it out if you missed it!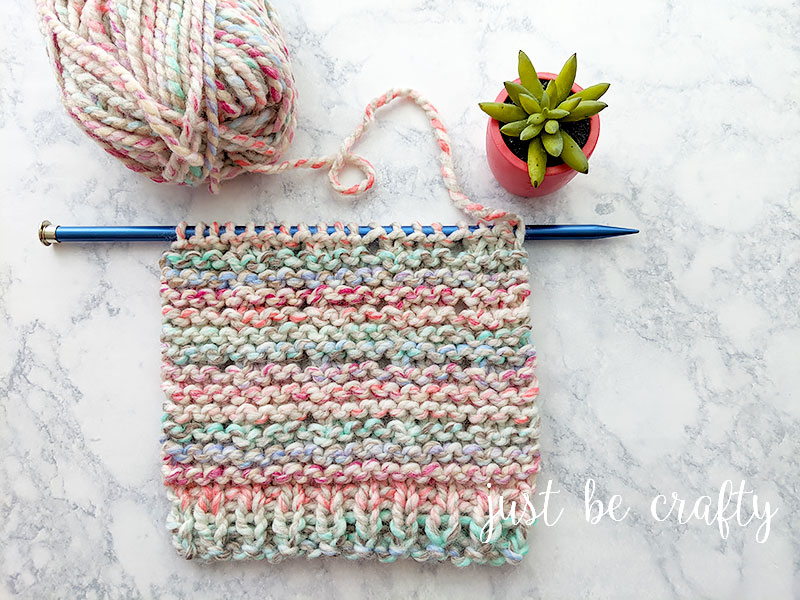 The easy to read ad-free printable version can be purchased here.
Cotton Candy Knit Scarf Written Pattern
*This post may contain affiliate links.  Please see my disclosures page for more information.
All patterns on this blog are for personal use only and may not be redistributed, copied, blogged, or sold as your own.  You may sell items made by my patterns as long as the item is made by you personally (not mass produced) and that proper credit is given back to me and my site, Just Be Crafty. You may not use my photos for your online sales listings. 
Materials
3 balls Lion Brand Thick & Quick in color Carousel
US size 13 knitting needles
Yarn needle
Measuring tape
Gauge checker
Scissors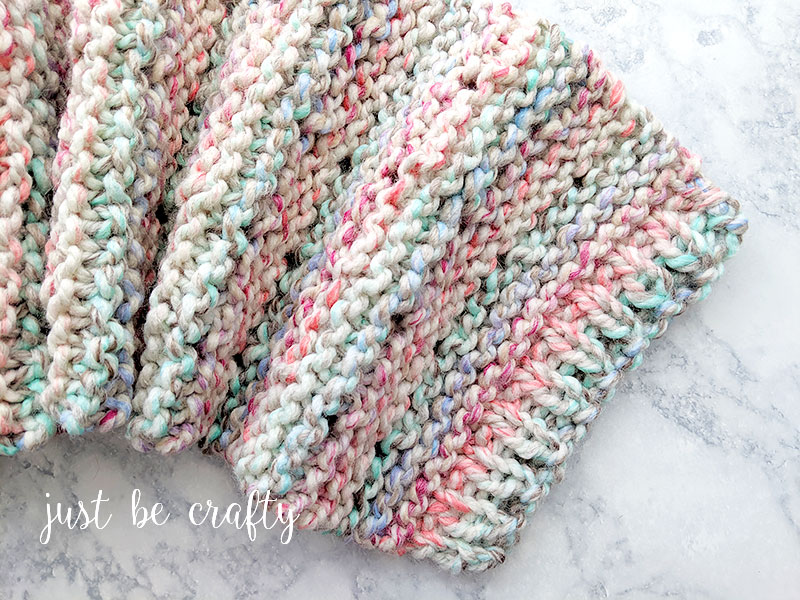 Finished Measurement
Approximately 70 inches long 8.5 inches wide
Gauge
 9 stitches by 18 rows = 4 inches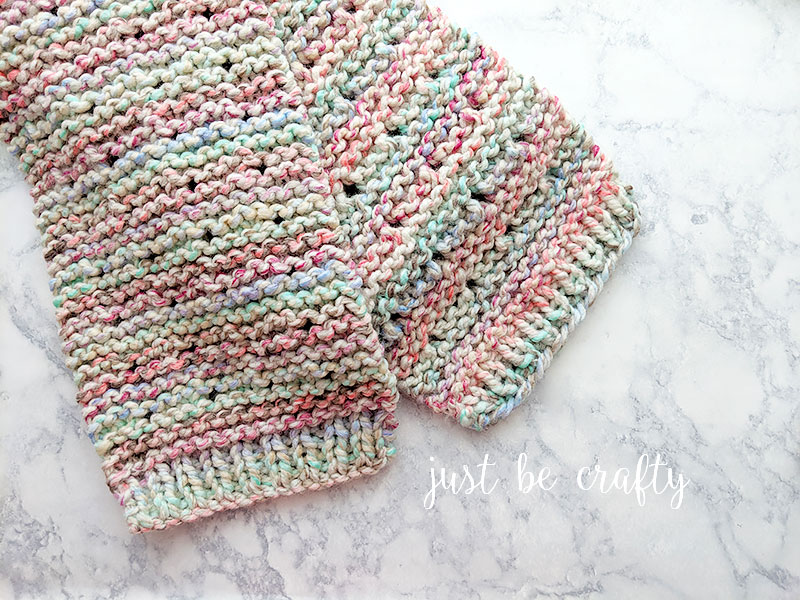 Key
BO – Bind off
k – knit
k2tog – knit two stitches together decrease
p – purl
YO – yarn over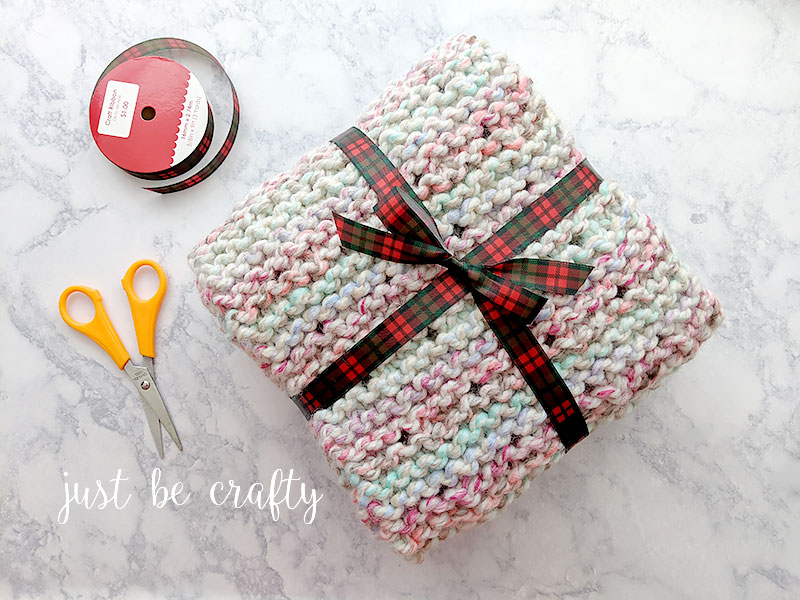 Cotton Candy Knit Scarf Pattern starts here:
Cast on 19
Row 1: *k1, p1; repeat from * across row
Row 2: *p1, k1 repeat from * across row
Row 3: repeat Row 1
Row 4: repeat Row 2
Rows 5 – 10: k across row
Row 11: k2, k2tog, YO, *k1, k2tog, YO; repeat from * until 3 stitches remain, k3
Rows 12 – 16: k across row
Rows 17 – 270: Repeat Rows 11 – 16 45 more times
Rows 271 – 275: k across row
Row 276: *p1, k1 repeat from * across row
Row 277: *k1, p1; repeat from * across row
Row 278: *p1, k1 repeat from * across row
Row 279: *k1, p1; repeat from * across row
BO in p1, k1 ribbing.  Cut yarn and secure.
Weave in ends.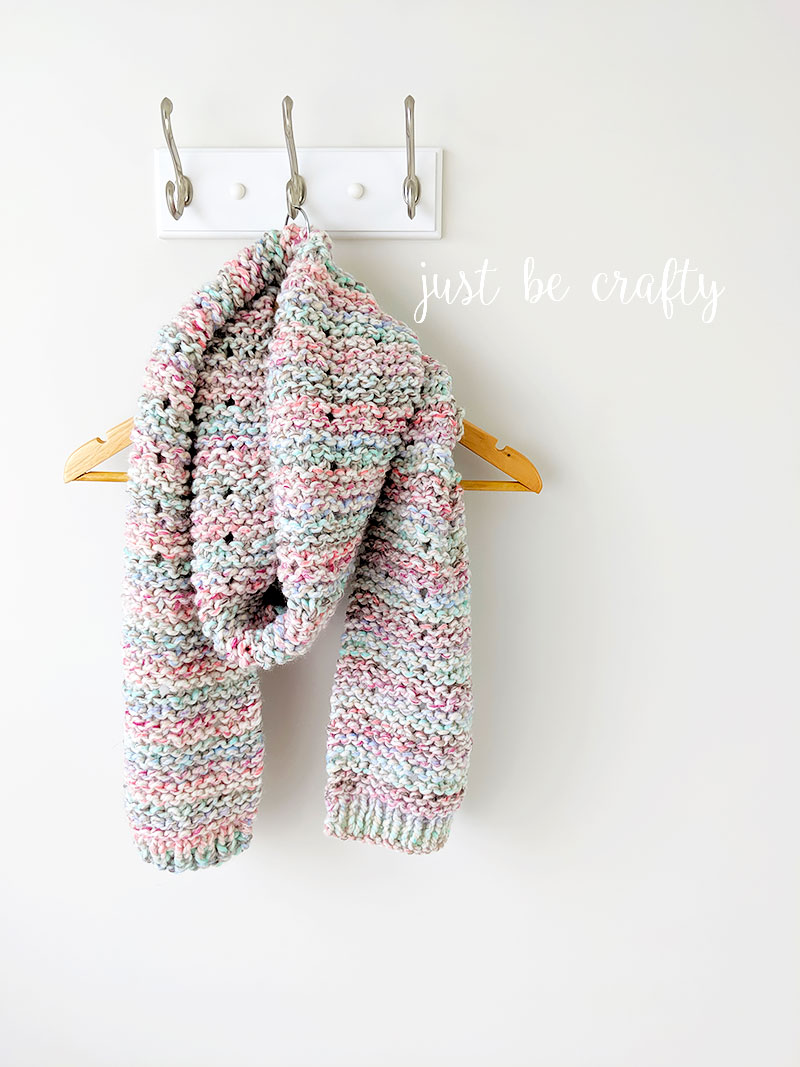 Enjoy!