Get cozy this fall season with these adorable velvet pumpkins! So cute, so chic, and so easy to make, you'll have a whole pumpkin patch crocheted up in no time flat!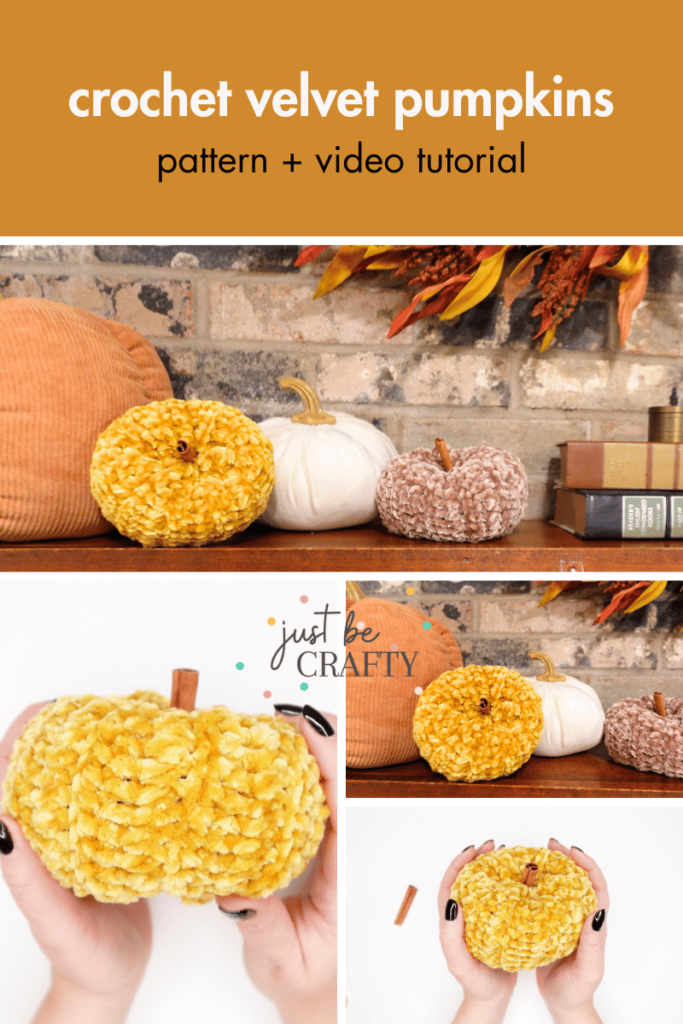 Techniques used in this pattern
This pattern utilizes the following skills:
chaining
half double crochet
half double crochet in the back loop only
slip stitch
whip stitch
weaving in ends
Once you've mastered these above skills, I'm confident you can tackle this pattern.
If you're brand new to crocheting I highly suggest you start with this pumpkin pattern first! (Its super cute too!)
Video help
I've created a video tutorial to assist you in making this pattern. To view, simply click on the play button below!
Crochet Velvet Pumpkin – Written Pattern
This pumpkin project is not a toy. Due to small pieces, children should be supervised at all times if/when around this project and/or finished piece.
Purchase the ad-free printable PDF pattern here!
OR… gain instant access to this pattern PDF as well as my entire PDF pattern library! Click here for more information.
*This post may contain affiliate links. Please see my disclosures page for more information.
All patterns on this blog are for personal use only and may not be redistributed, copied, blogged, or sold as your own. You may sell items made by my patterns as long as the item is made by you personally (not mass produced) and that proper credit is given back to me and my site, Just Be Crafty. You may not use my photos for your online sales listings.
Materials
Yarn

#5 bulky weight velvet yarn – approx. 38 yrds

Suggested Yarn
Suggested Hook
Notions
Miscellaneous & Embellishments
Gauge
12 stitches over 8 rows worked in hdcblo = approximately 4 in. x 4 in. (10 cm x 10 cm)
Finished Measurements & Sizing
One size
This pattern creates a finished pumpkin that is approximately 4.5 in. wide x 2.5 in. tall. See NOTES section on how to customize pumpkin size.
Abbreviations
ch chain
hdc half double crochet
hdcblo half double crochet back loop only
sl st slip stitch
st stitch
Notes
CUSTOMIZING THE SIZE
You can make your pumpkin any size you'd like! Simply start with a foundation chain of any number, making it as long or short as you'd like. Work in pattern until the length of your crocheted piece is 2x longer than its width.
For example: If your piece's width is 5 in., you'll want to crochet until the piece is 10 in. in length.
TIPS FOR CINCHING THE TOP AND BOTTOM CLOSED
After whip stitching around the top and bottom of the pumpkin be sure to pull gently on the yarn to cinch these holes closed, taking care to not break the yarn.
If you do accidentally break the yarn, try again by using one of the following methods:
Attach a new piece of velvet yarn and try again
Use two strands of velvet yarn (to give it more strength)
Use a piece of scrap acrylic or wool yarn from your stash that is a coordinating color.
Crochet Velvet Pumpkin Pattern starts here:
BODY
With a long tail (about an arm's length and a half), ch 20
Row 1: Starting in 3rd ch from hook, hdc in each ch across, turn. (18)
Row 2: ch 2, hdcblo, turn. (18)
Rows 3 – 23: repeat Row 2
Working yarn should be on the same side as your starting yarn tail.
Do not cut yarn.
ASSEMBLY
Fold crochet piece in half so that the starting and ending edges are touching.
Line up your stitches, ch 1 and sl st the edges together to form a cylinder shape.
Fasten off leaving a long tail (about an arm's length and a half long).
ASSEMBLY – BOTTOM
Thread yarn needle and whip stitch around the top edge. Gently pull tail to cinch closed, taking care to not break the yarn.
TIP: If you do accidentally break the yarn try again with a new piece of yarn and re-whip stitch the top and gently pulling to close the hole. If you still are having a hard time with the yarn breaking, grab a scrap piece of wool, or acrylic yarn in a similar color and repeat process. OR, try using two strands of the velvet yarn to give it added strength.
Stitch closed any remaining hole. Secure yarn and fasten off.
ASSEMBLY – TOP and FILLING THE PUMPKIN
Thread yarn needle with the other yarn tail and whip stitch around the top edge. Fill pumpkin with a couple handfuls of fiber fill to your desired plumpness. Pull yarn tail to cinch closed. (If having issues with yarn ripping when cinching closed, repeat suggested TIP above.)
You will have a small hole remaining open at the top. Leave this small hole here, but make sure its a tight hole! We'll us it later for the cinnamon stick stem!
Secure yarn, but do not cut tail yet.
SHAPING THE PUMPKIN
With tail and yarn needle still attached, insert yarn needle into the pumpkin (near the center) and pull through to the bottom of your pumpkin (also near the center), gently pull to tighten.
Pull yarn needle back up through the top in a different spot (still near the center) and back down through the bottom again. Repeat this one or two more times squishing the pumpkin as you go. This will give your pumpkin that unique/realistic pumpkin shape.
Knot to secure shape. Pull yarn tail back through to the inside of your pumpkin and hide tail. Secure any remaining tails and pull to the inside of the pumpkin to hide tail.
FINISHING
Using proper safety precautions, cut cinnamon stitch down to desired size, and insert into the top hole of your pumpkin to create a stem. Use hot glue to secure in place if you so choose.
Enjoy!