Knit Macbook Air Cover Pattern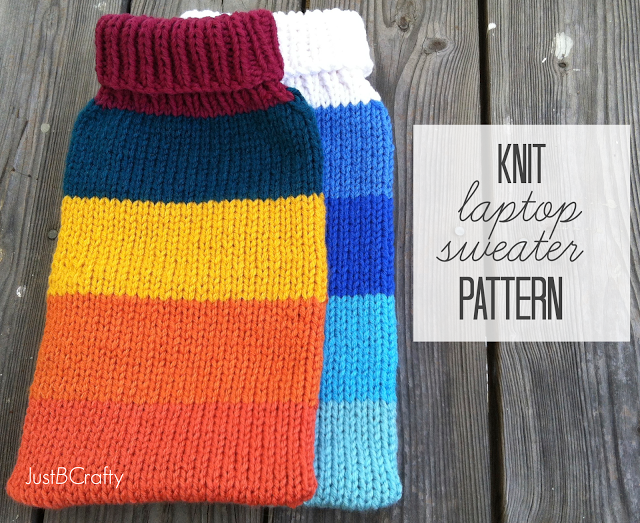 It's November! The leaves have changed, the air is brisk, and it's time to pull out your sweaters that have been hiding away in the back of the closet.  My laptop has been in need of a sleeve or "sweater" if you will for a long time but I have just been too cheap to shell out the cash and buy one.   Last week I posted about my
Wine Bottle Sweater
 and thought why not make one for my laptop while I'm at it.
 This project doubled as useful computer sleeve and yarn stash cleaner, unfortunately it won't provide any real protection against falls but it sure is cute!   I just dug out some fall leaf and snowflake inspired colors I already had and knitted away.
I designed this pattern to fit my 11 inch Macbook Air (the smallest one they have) but it can be easily customized to fit any laptop.  The actual measurements of my computer are 11.75 x 7.5 inches and the finished pattern measures 11.5 x 7.5 inches (turtleneck collar not included in measurement).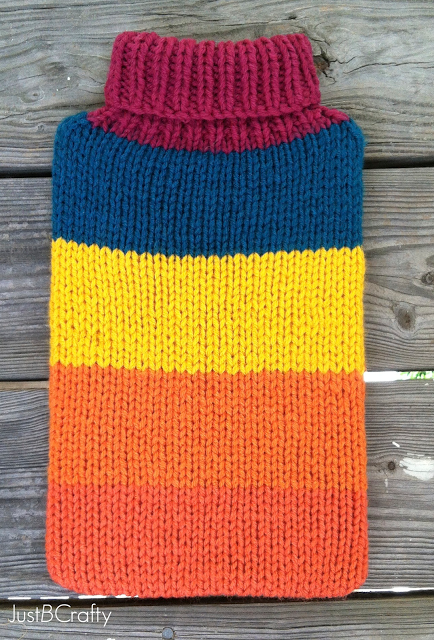 Modify this pattern to fit any laptop!
So, to modify this project to fit any laptop, measure the depth of your computer.  For each inch your computer measures over 7.5 inches, cast on 3 extra stitches.  If your total cast on stitch count ends up being an odd number, add one more stitch to make it even.  It's important to have an even number of stitches for the ribbing of the turtle neck.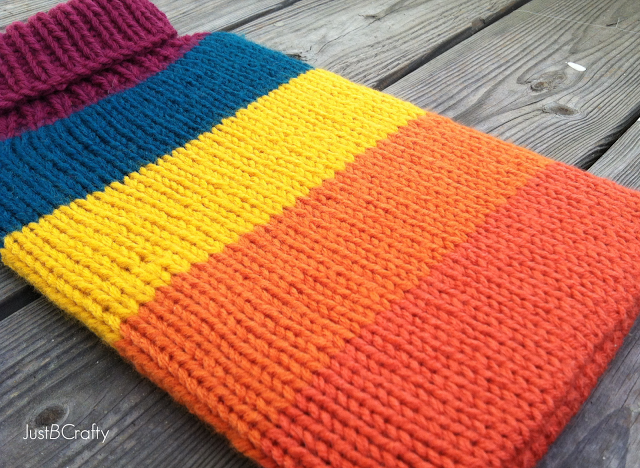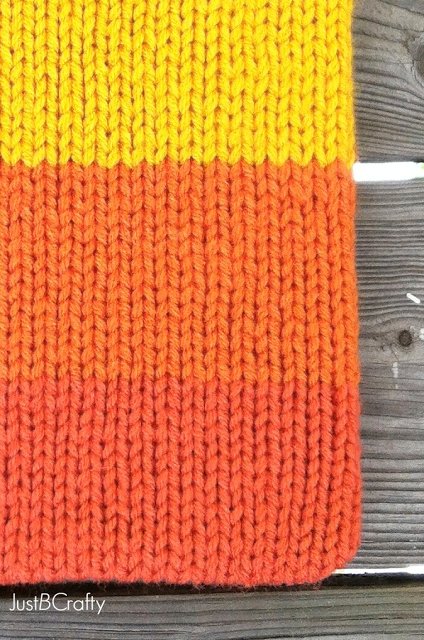 A printable PDF version of this pattern is available for purchase
here
.
Laptop Sweater Pattern
Guage:
3 st by 5 rows = 1 inch St st
Materials:
Red Heart Super Saver Yarn in 5 colors of your choice (or any worsted weight acrylic yarn)
US 10.5 (7mm) 16″ circular needles or US 10.5 double pointed needles
stitch marker
Yarn needle
crochet hook (optional)
Finished Measurements:
11.5 inches by 7.5 inches (not including turtleneck collar)
Note: To thicken up this cover, I doubled up and knitted the entire pattern with 2 strands of yarn
In color # 1 CO: 50 st, join in round
Rounds 1 – 13: knit
Round 14: Cut yarn, and loosely attach color #2, knit
Rounds 15 – 27: knit
Round 28: cut yarn, and loosely attach color #3, knit
Rounds 29 – 41: knit
Round 42: cut yarn and loosely attach color #4, knit
Rounds 43 – 54: knit
Round 55: k25, place marker, k25
Round 56: ssk, knit to the last 2 stitches before marker, k2tog, slip marker, ssk, knit to last 2 stitches, k2tog
Round 57: cut yarn and loosely attach color #5, knit
Round 58: Repeat round 56
Round 59: knit
Round 60: k1, p1 around
Repeat round 60 until ribbing measures 4.5 inches
Bind off loosely in ribbingStitch up the bottom edge with a yarn needle or use a crochet hook to slip stitch the seam closed like I did
here
.
Weave in all loose ends, and your done!Key:
co – cast on
k – knit
p – purl
ssk – slip, slip, knit (decrease)
k2tog – knit 2 stitches together (decrease)
st – stitch
St – stockinette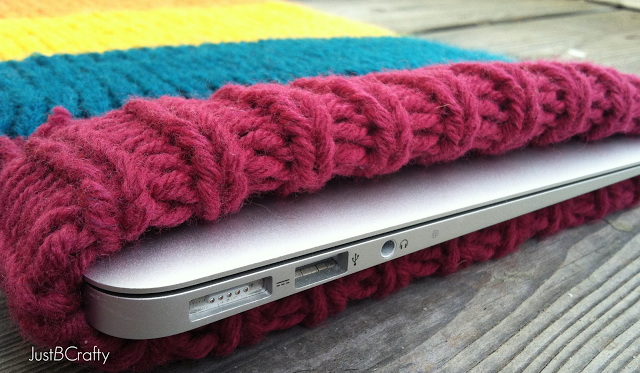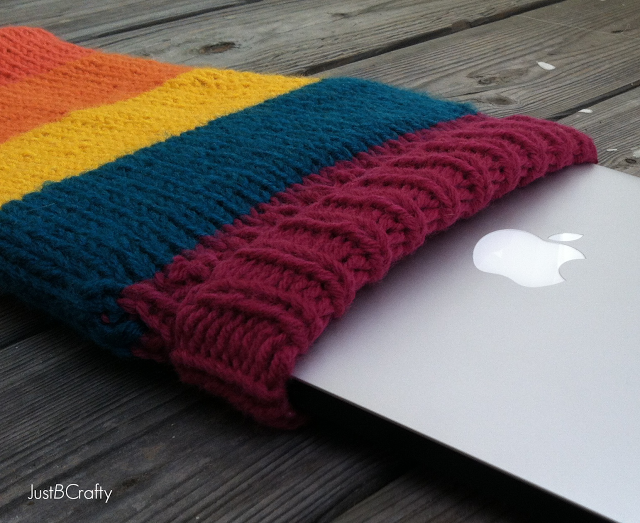 If this post was helpful or inspiring, like JustBCrafty on
Facebook
!