How To Crochet Series: Items To Get Started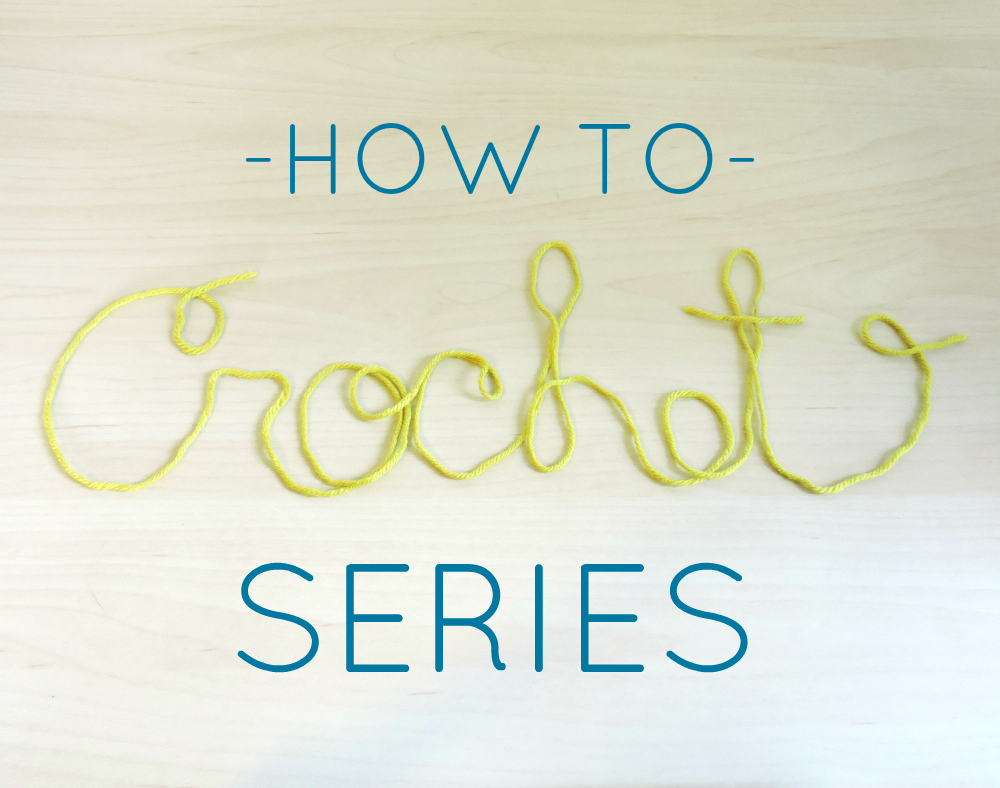 Welcome to the How To Crochet Series!  This series is designed for crochet newbies who want to learn the craft but don't quite know where to start.  If you find yourself in that boat then this series is for you!  Each week I will be posting a new technique and by the end of the series you will be able to apply all the techniques you have learned to make your first project!
Yay!  Lets learn to crochet!
This is the first post in the series and it covers the basic items you will need to get started.  All the items I cover are things I actually use, and probably safe to say that I use them almost every single day.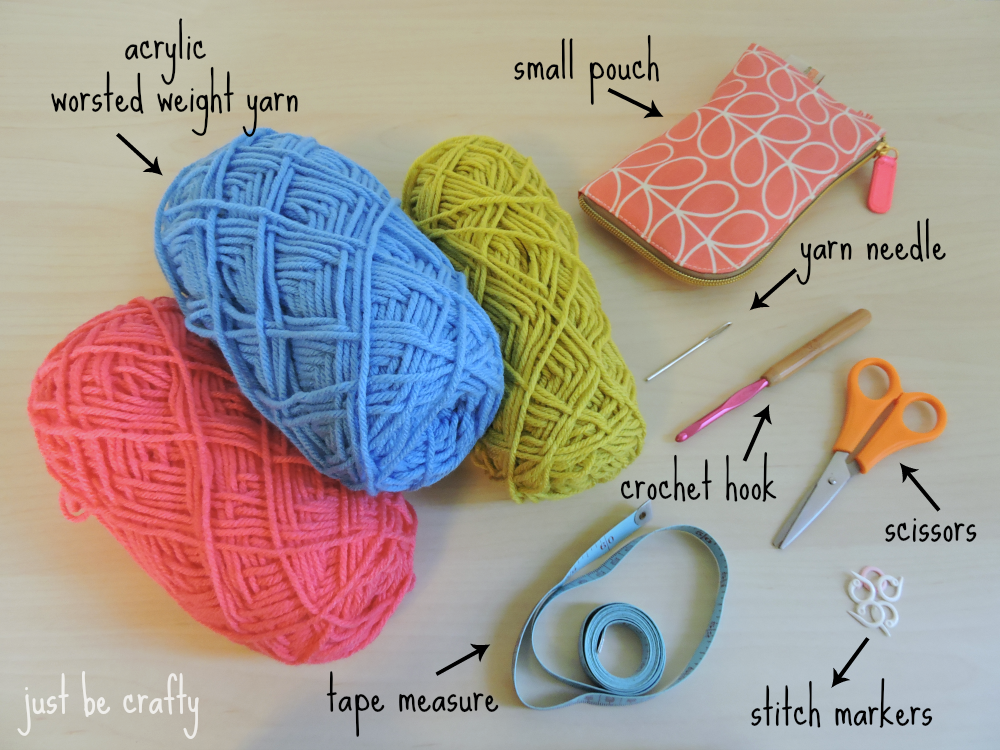 Must have items to get started…
The shopping list
worsted weight acrylic yarn
tape measure
5.5 mm crochet hook
small scissors
stitch markers
yarn needle
small pouch
Getting to know your items…
1. Worsted weight acrylic yarn
For beginners, the best yarn to choose is worsted weight acrylic yarn in light colors.  I suggest light colors because it will be so much easier to see your stitches.  A dark color like black or navy can be difficult for beginners because it's hard to see where you need to insert the hook into your stitches.
My favorite worsted weight acrylic yarn brands are Red Heart and Vanna's Choice.  I love them because they come in so many beautiful colors and can be found pretty much anywhere (Michaels, JoAnn's, AC Moore etc..).  If you are unsure of the weight or material type of yarn you have selected, all of that information can be found on the skein (aka yarn ball) label.
2. Tape measure
Having a tape measure is super important for crochet projects.  Many patterns may instruct you to crochet a particular stitch until your piece measures a certain length.
A tape measure is also handy for checking your gauge.  Your gauge is how many rows of stitches are equal to a specific measurement.  Gauge is particularly important when making garments.
Patterns will typically give a specific gauge.  Before you begin a pattern, you will want to make sure your gauge matches that of the pattern in order to ensure your finished piece will be the correct size.
3. 5.5 mm crochet hook
This is my favorite size crochet hook, and it is the size I used exclusively when first learning to crochet.  This hook gives the perfect size stitch that is easy to control when just starting out.  Most of the hooks I own are the Susan Bates Bamboo Handle crochet hooks.  They are my absolute favorite, as the wooden handle's really comfortable to hold!
4. Small scissors
You will want to get a pair of scissors that are small enough to fit in the little pouch that I cover in item 7.  Scissors are a MUST have for color changes and finishing projects.  Nothing drives me more crazy then not being able to switch a color or finish a project just because I forgot my scissors!  Having a tiny pair of scissors that fit into your crochet pouch will ensure you will never be without them…as long as you have your pouch! 🙂
5. Stitch markers
Stitch markers will make your life so much easier!  If you are crocheting in the round, you can place a stitch marker in the last stitch of the round so that way you can keep track of where your round starts and ends without counting stitches.  My favorite brand is the Clover Split Ring Markers because they are easy to use and move around.
6. Yarn needle
Make sure you ALWAYS have a yarn needle on hand.  My "go to" is the Susan Bates Steel Yarn Knitting Needle.  You will use these to weave in your loose ends at the end of your project.  Trust me, once you get to the end of your project and you see all the loose ends, you will want to pull your hair out if you don't have your handy dandy yarn needle!
7. Small pouch
This may be the most essential item on the list!  You will want to find a small pouch that can fit all the above items in it so that way you have all of your tools in one safe place that is easily portable.  The pouch pictured is an Orla Kiely bag from Target.  The bags come in a set, and the one I use is the smallest one in the set.  A similar set can be found here.
Did you find this post helpful?  What are your essential items for crocheting?