Beach House Knitted Dishcloth – Free Pattern
The Beach House Knitted Dishcloth is the perfect pattern to add a pop of color to your kitchen!  The ad-free version of the pattern is available for purchase here.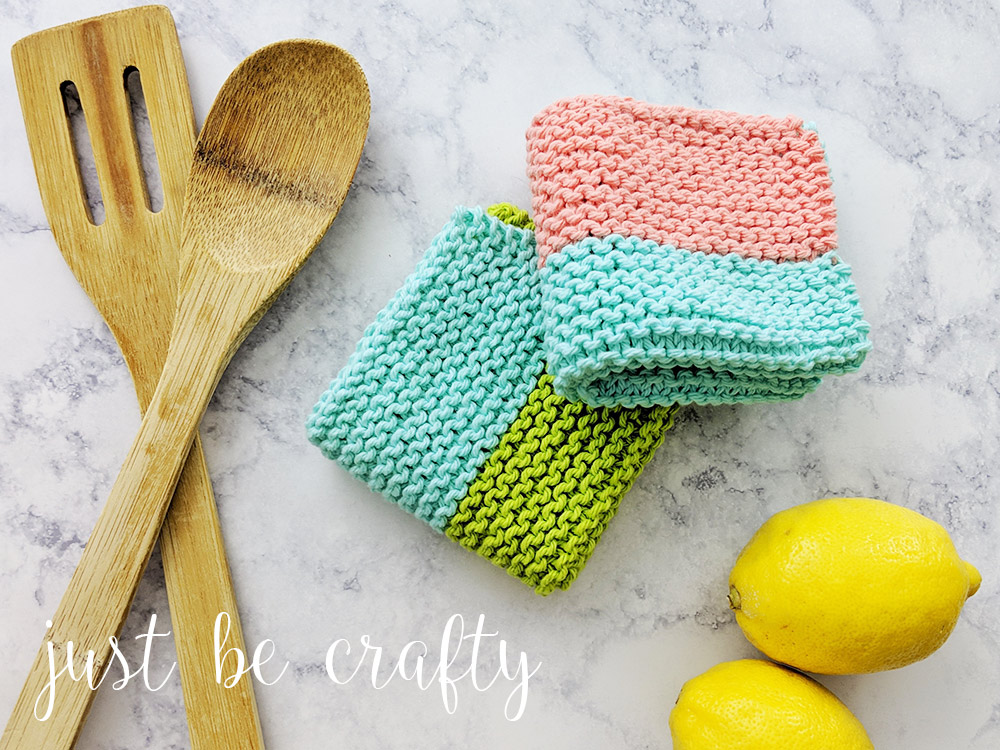 Hello and welcome back to my blog!  Today I am sharing a new dishcloth pattern with you – the Beach House Knitted Dishcloth.  This pattern is great for both complete beginners as well as seasoned knitters looking for a quick and easy project!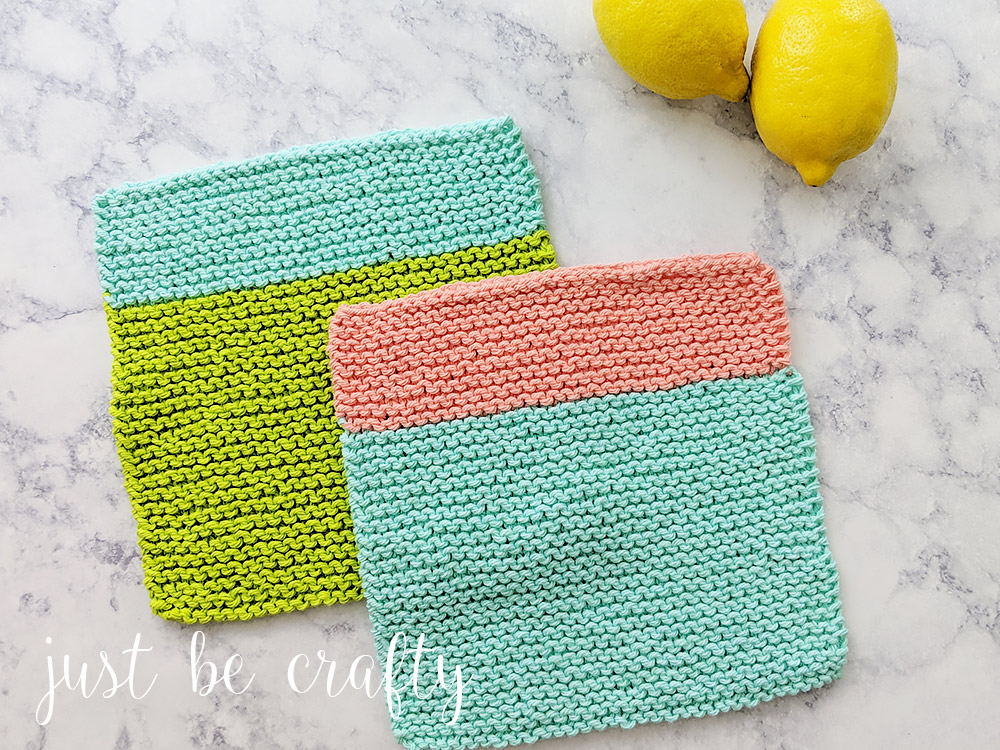 Yarn
If you've been around my blog for a little while you might have noticed that I love Lily Sugar'n Cream yarn!  And honestly, how could I not!?  Its super affordable, comes in SO many colors, and can be easily found at most major craft stores.  For this reason it is my absolute go-to for dishcloth, washcloth and bag patterns.  (I am not sponsored, just love it that much!)
This yarn is both durable and absorbent which is perfect for scrubbing dishes and soaking up excess water.  For this project I wanted to make something that was both quick to make and super colorful so I grabbed for my favorites from the brand – Tea Rose, Beach Glass, and Hot Green.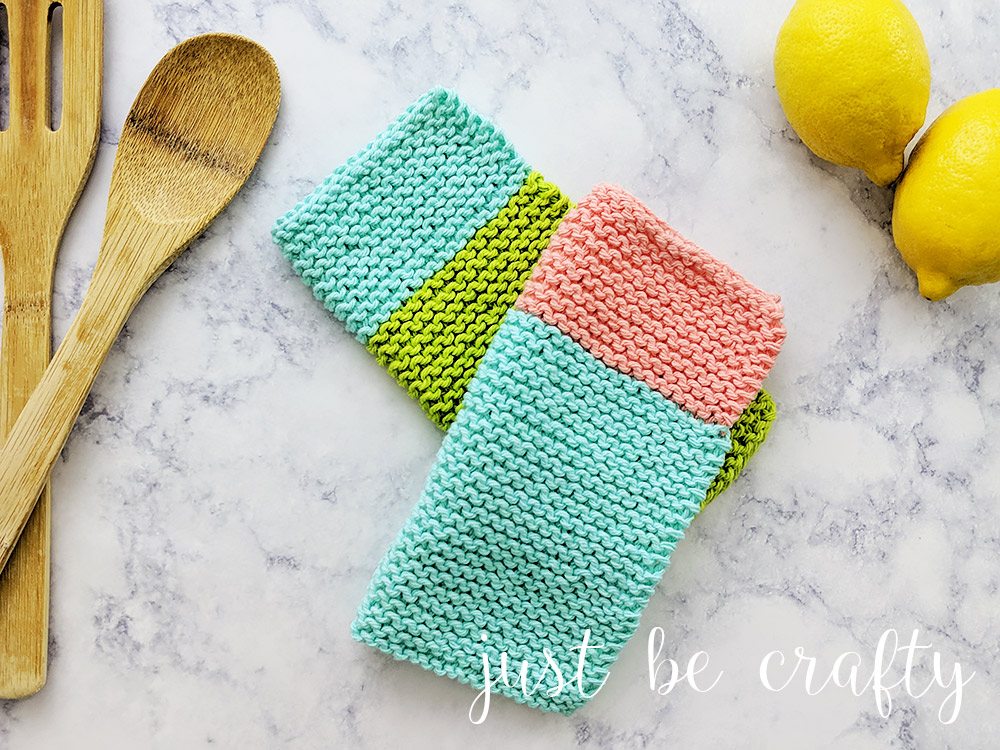 The Stitch
This dishcloth is worked up in garter stitch.  Garter stitch is formed when the knit stitch is worked on both the front and back of a knitting piece.  The fabric formed is both dense, stretchy and squishy, making it ideal for items like dishcloths, blankets, shawls and so much more!  Because working garter stitch only requires the knowledge of how to complete the knit stitch, it is great for beginners and quick projects that you can pretty much mindlessly work.  The garter stitch was the first stitch I learned many years ago and is still one of my absolute favorites!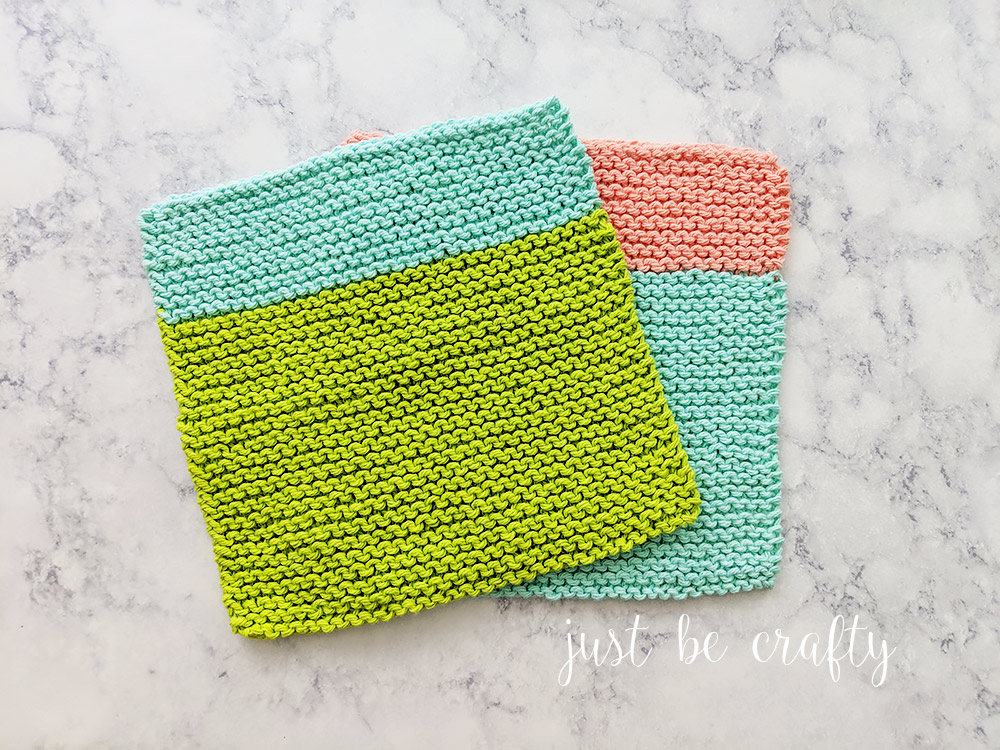 Video Tutorial
Are you new to knitting and want to try out this pattern but unsure where to start?  No worries – I have your back!  I've made a step by step video tutorial showing you exactly how to go from start to finish on this project.  The video tutorial goes over:
Casting on
How to complete the knit stitch
Casting off
How to adjust the size of your dishcloth
This post contains affiliate links.  For more information please see my disclosures page.
The ad-free printable version of this pattern is available for purchase here.
Beach House Knitted Dishcloth Pattern
Materials
Key
Finished Measurement
Approximately 8 x 8 inches
Note – You can make this dishcloth either larger or smaller by simply adding on more and leaving off cast on stitches.
Pattern
With main color, CO 33 stitches
Row 1: knit across row
Repeat Row 1 until piece measures approximately 5.75 inches from the cast on edge, ending after completing a row on the back of your work.  (You are working garter stitch, which is reversible.  You can pick whichever side you prefer to be the front or the back.)
Cut yarn, attach contrast color.
Beginning on the front side of your work, repeat Row 1.
Repeat Row 1 until piece measures approximately 8 inches, ending after completing a row on the back of your work.
CO
Cut yarn and weave in your ends.
Enjoy!