Calling all newbie crocheters!  The Crochet Afghan Quilt – Three Part Series will turn your pile of yarn balls into a brand new beautiful blanket!  Featuring both photo and video tutorials, this series will give you everything you need to accomplish your very first crochet project!  Purchase the ad-free full pattern in printer ready format here.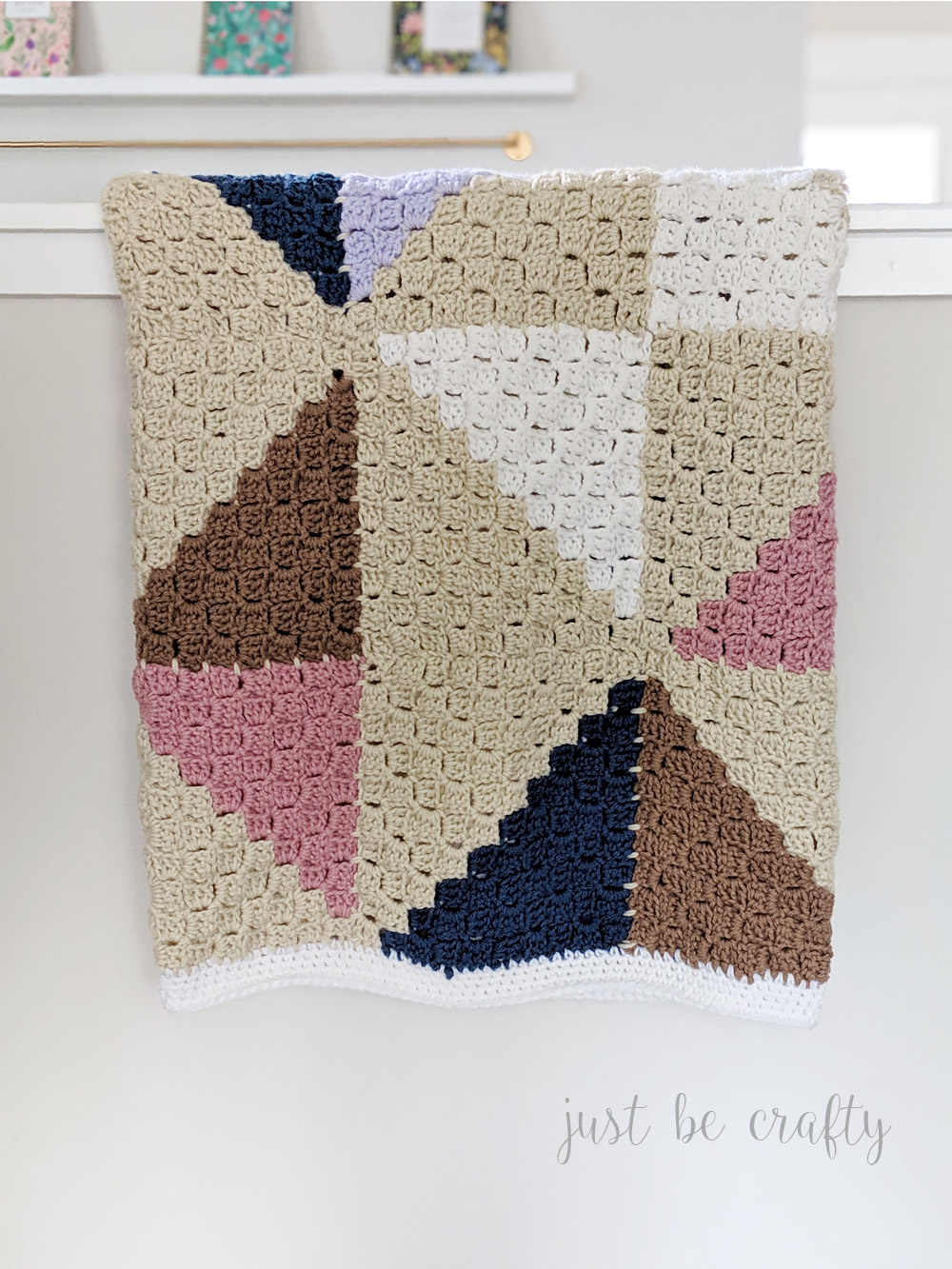 Hello and welcome back to the blog!  I hope you are having a great day so far!  Today, we are going to be talking all about corner-to-corner crochet!  The blanket featured in today's photos is comprised of multiple small corner-to-corner crochet squares joined together to make one squishy blanket.
There's a lot to love about the corner-to-corner crochet technique but what I love most is that it looks complicated when in actuality its really quite easy once you get the hang of it!  I have broken the pattern into a three part series in order to take a deeper dive into how to complete each step.  If you are a new crocheter, or maybe haven't even tackled your first project yet, I invite you to participate in this series!  I also invite seasoned crocheters to join in too! 😉
Today I am sharing part one of a three part series that will be released weekly over the next couple Tuesdays.  We will be learning how to make my latest design, the Crochet Afghan Quilt!  Each part of the series will be picking up where the previous week left off.
Below is an outline of the Crochet Afghan Quilt Series and what you can expect to see covered each week.
Part 1:
Today's post is all about the Corner-to Corner (C2C) technique, and how to make a square!  If you're new to the world of C2C, the technique can be a bit intimidating at first.  This is why I have provided both a video tutorial and a photo tutorial guide to help get you started.  The tutorial will cover:
What is C2C?

Materials needed for the entire project

C2C increasing

Color changes

C2C decreasing
Part 2 of the series will be released next Tuesday, February 12th, 2019!  In this post we will pickup where we left off today and cover everything you need to know about assembling your blanket together!  Next week's tutorial will go over:
Blocking your squares

Arranging your squares into a beautiful layout

Joining your squares together
Part 3 of the series will be released Tuesday, February 19th, 2019!  In this post we will pickup where we left off on the previous Tuesday and cover everything you need to know about the finishing touches of your blanket.  This section will cover:
Creating the blanket border

Weaving in your ends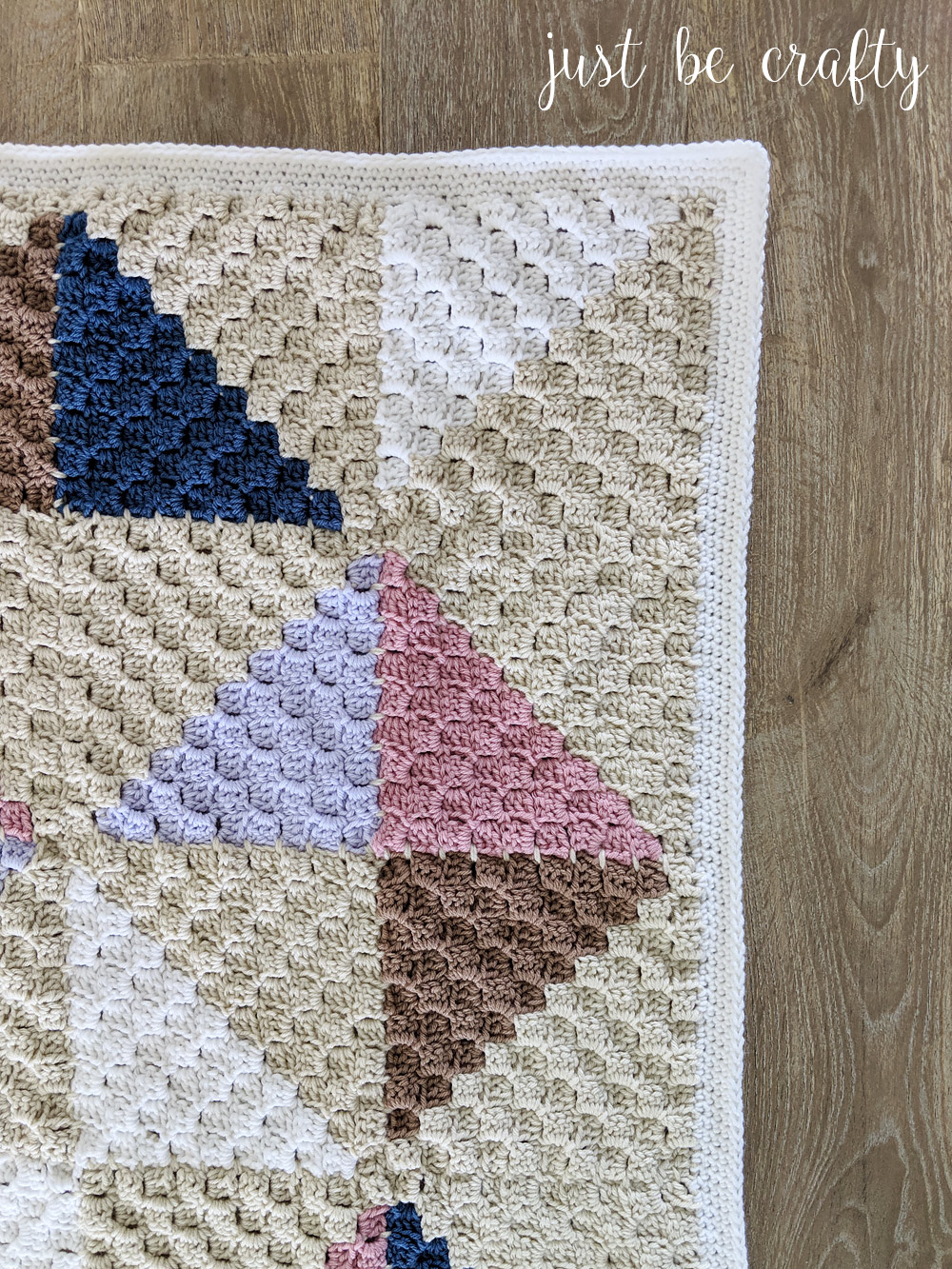 Crochet Afghan Quilt Series Part 1:
Purchase the ad-free full pattern in printer ready format here.
What is corner-to-corner crochet?
Corner-to-corner crochet, also known as C2C crochet is a technique in which you work back and forth in rows diagonally.
C2C pieces are comprised of small crochet cluster squares.  This technique forms a dense plush fabric that makes for warm and cozy afghans!
Because each square cluster is worked one at a time, its really easy to incorporate beautiful color work and even translate pixel pictures into your favorite crochet project!  If you're not sure what I'm talking about check out this project from Repeat Crafter Me.  She is awesome and has a TON of free C2C patterns!
Materials List
Additional note on materials:  Feel free to use this project as a yarn stash buster!  I used yarn I already had on hand for this, which is the reason why two different brands of yarns are listed.  Any 100% acrylic medium 4 weight yarn will work for this project.
Finished Square Measurement
Each square is approximately 8.5 by 8.5 inches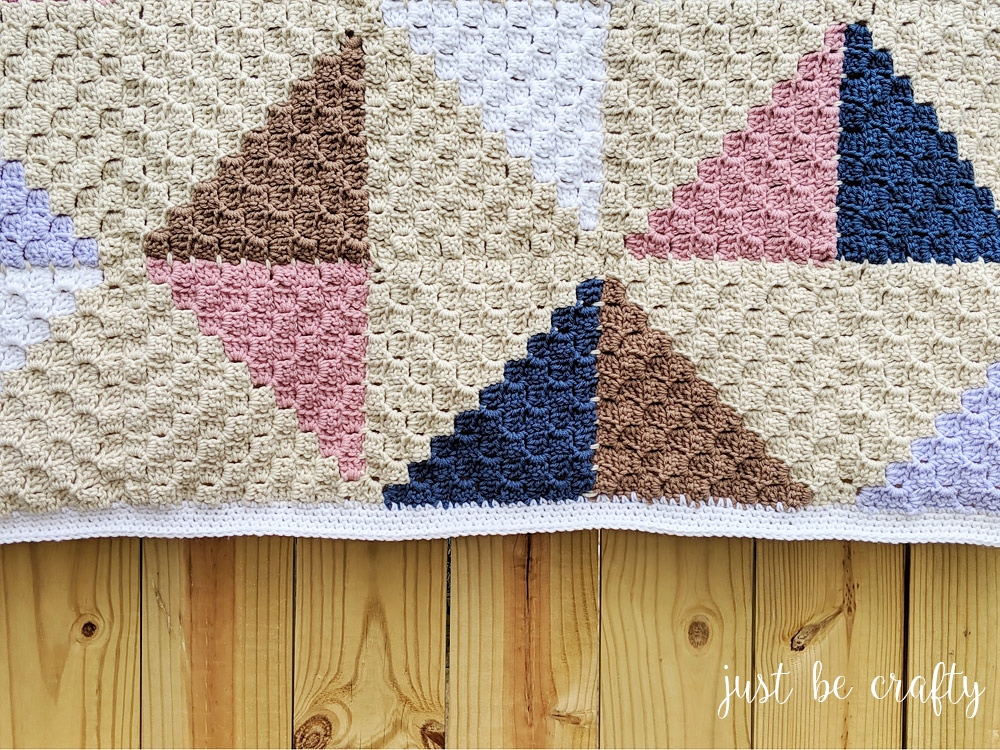 Video Tutorial
C2C Increase
The following steps will show you how to start off your C2C square and increase in each row.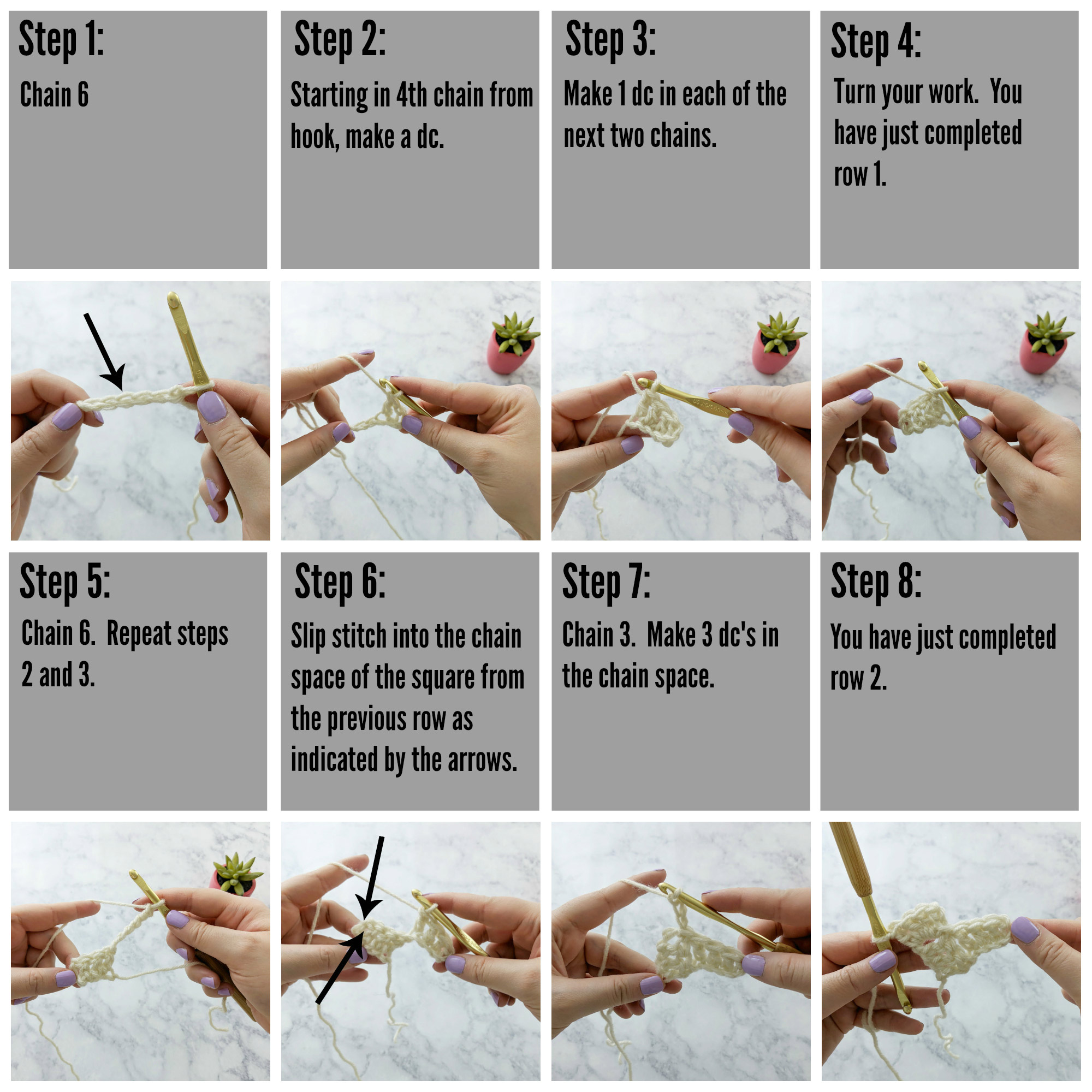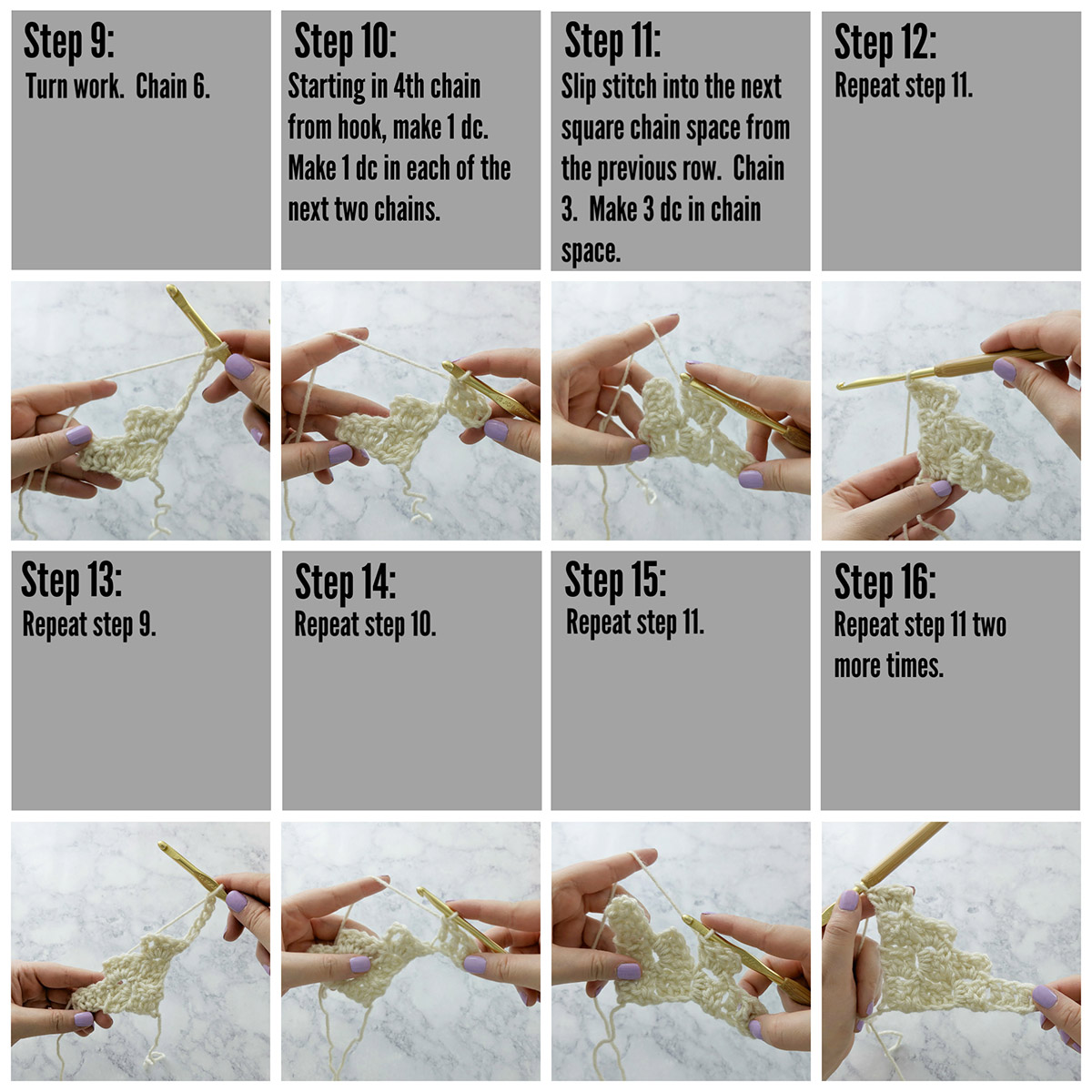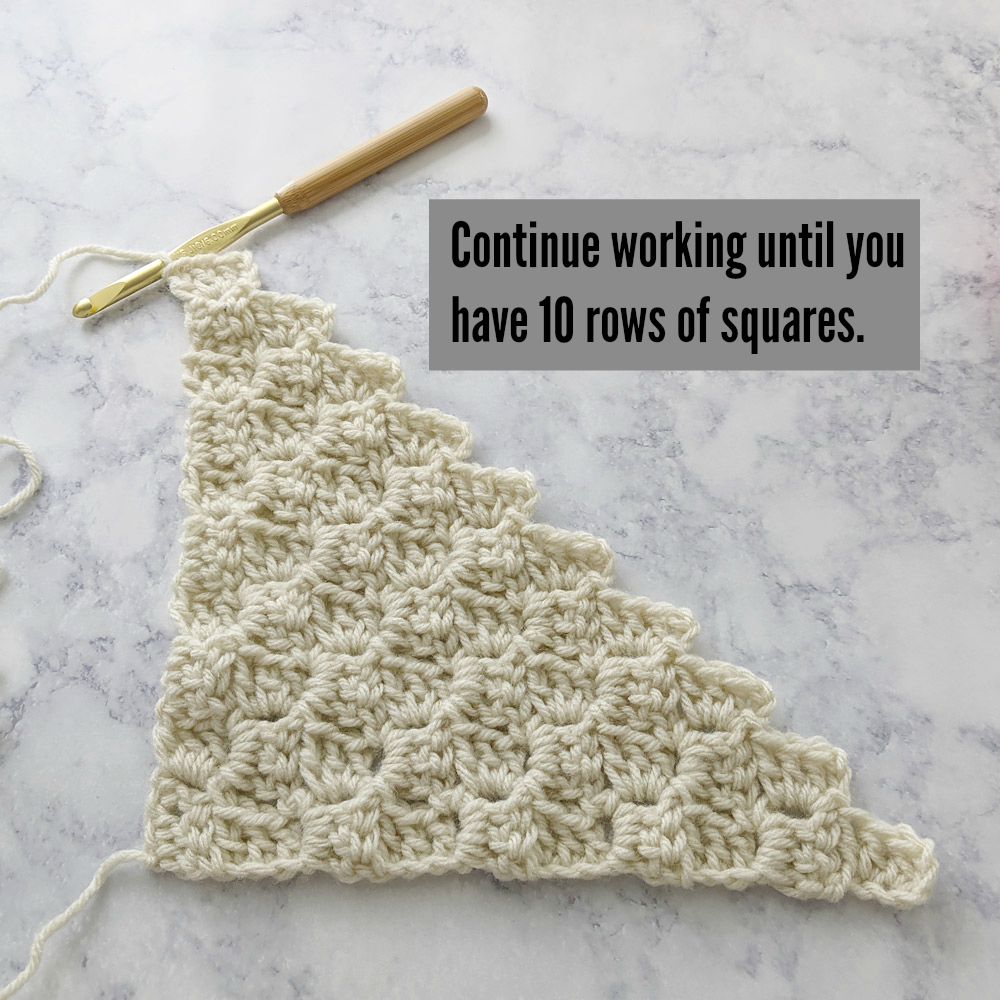 Yay!  You have now completed all your increase rows.  We will be decreasing your square from this point forward.
C2C Decrease
The following steps will show you how to complete a decrease row.
Keep going back and forth in the same fashion as instructed above until you have one more row (square) that remains unworked.
The below steps show you how to complete your last row of your C2C square!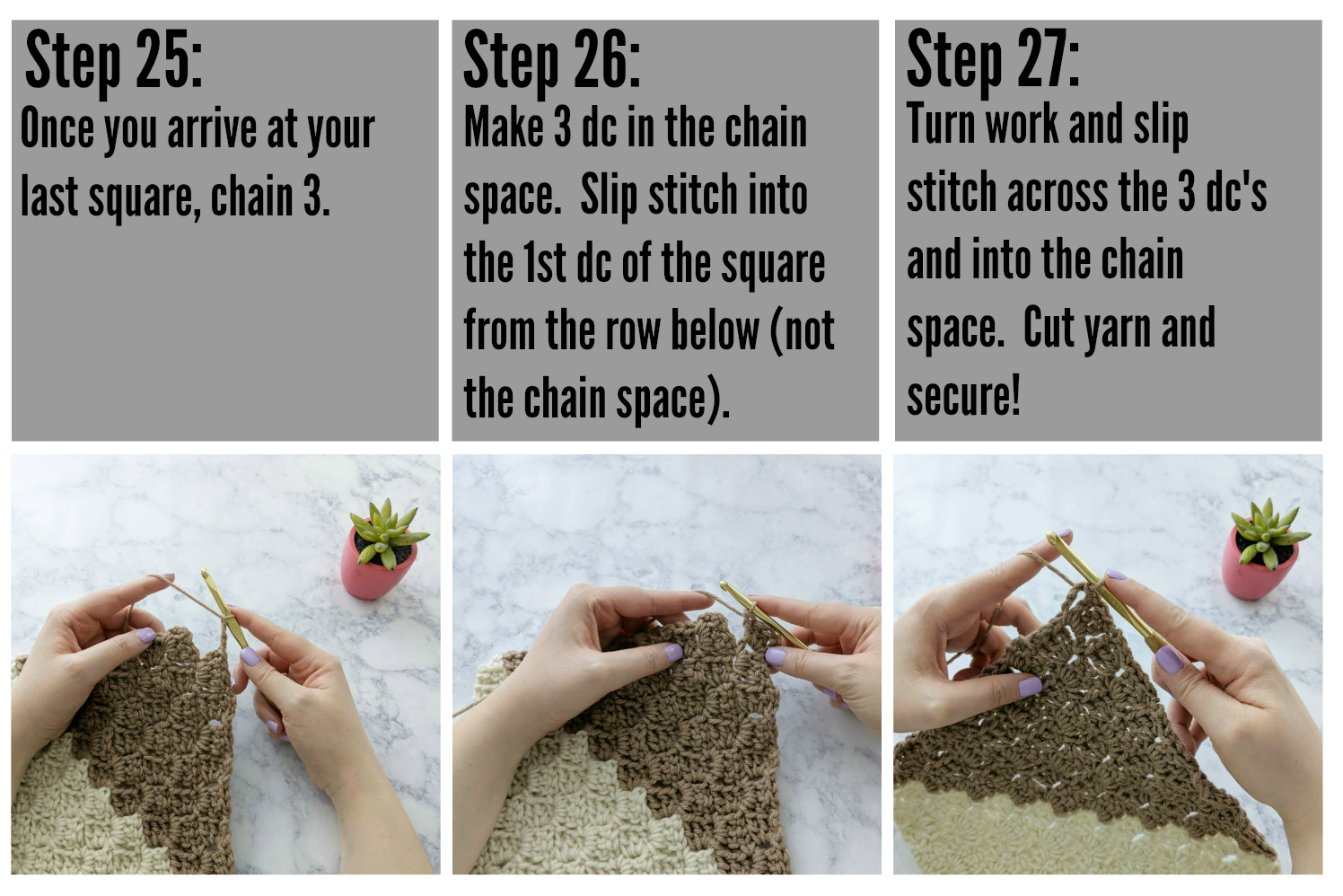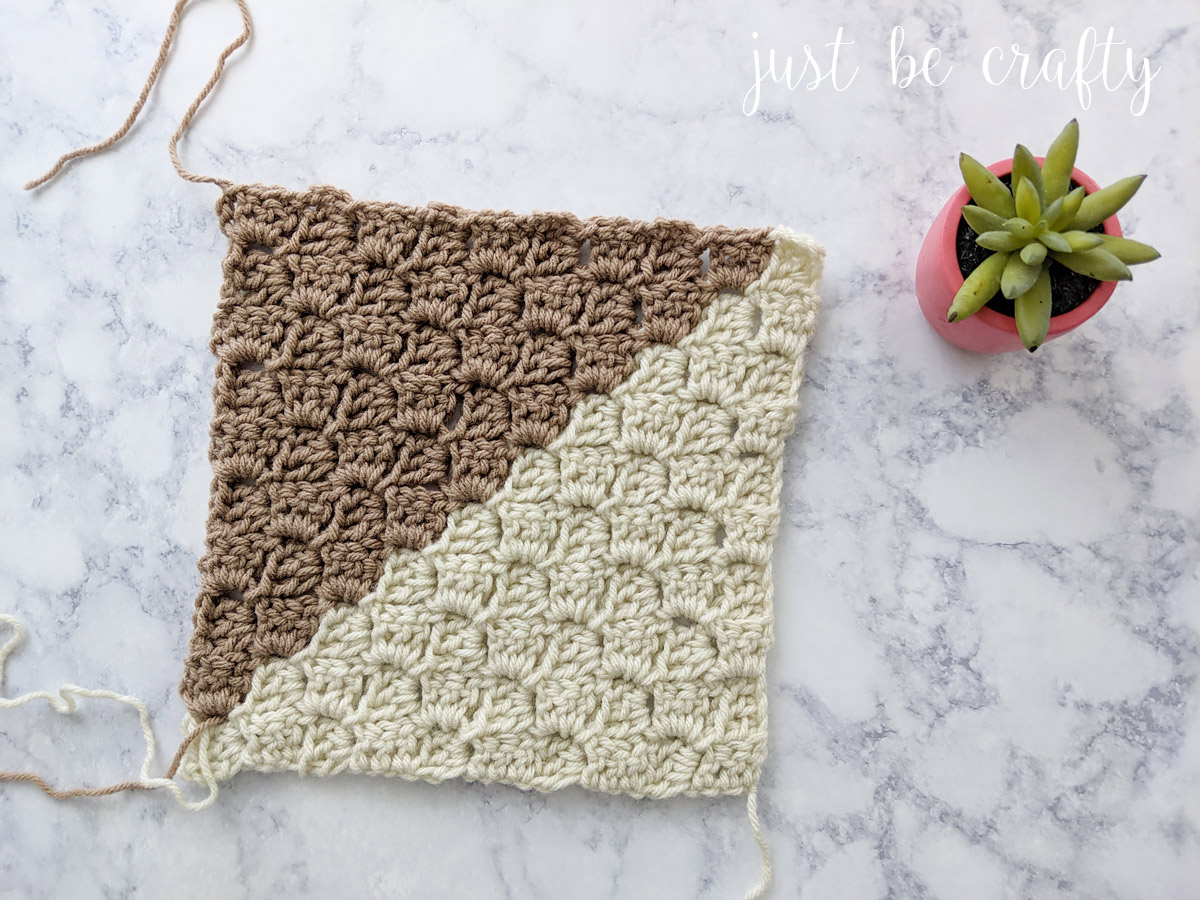 Congratulations!  You have just completed your very first C2C Square!
How many squares do I make of each color?
Make 5 squares with each contrasting color for a total of 25 squares.  Be sure to stay tuned for next week's post on how to block, arrange, and join your your squares!
Share your C2C progress on Instagram by using the hashtag #justbecrafty so I can see your latest creations!  Happy crocheting!