Learn to make wool wash at home with this super fun and simple recipe!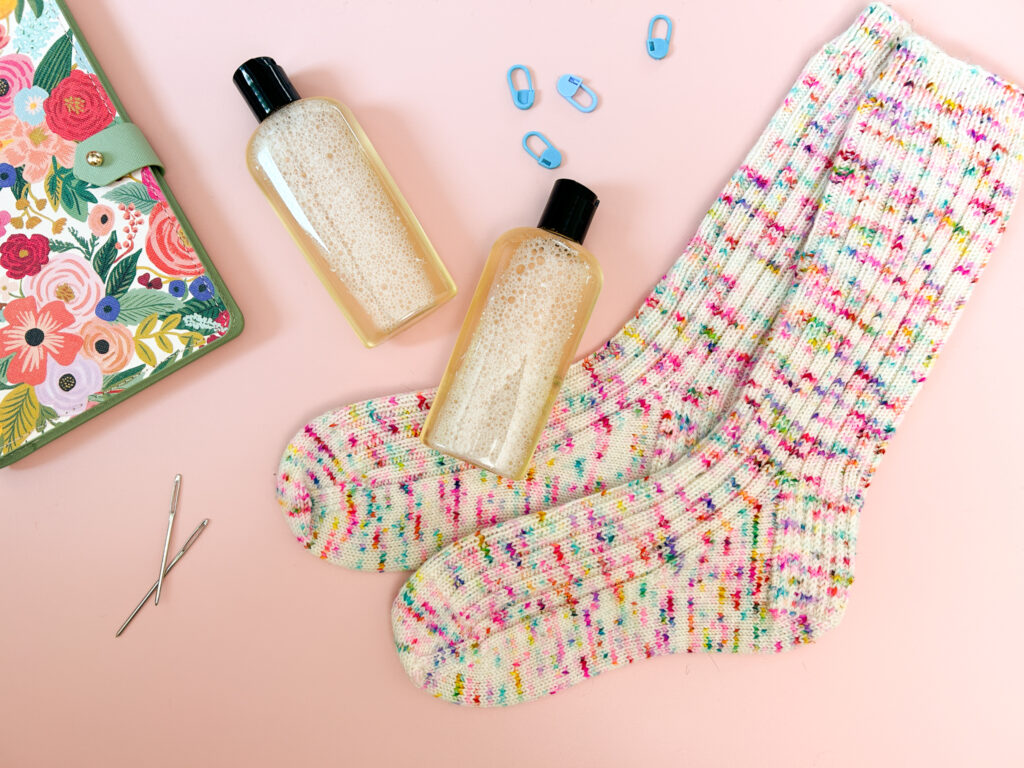 Making your own homemade wool wash is easier than you might think, and it's the perfect way to show some love to your hand knit and crochet items. Plus, you might be surprised how few ingredients it actually takes to make! In today's blog post, I'm sharing a simple and fun DIY recipe to create your very own natural wool wash at home.
Get ready to give your knit and crochet pieces the love and care they deserve because not only do they take so much time [and money] to make, we want to ensure they last as long as they possible can!
Wool Wash Recipe
Equipment
Before you begin making your wool wash, be sure to use equipment that you don't plan to use for food again and store separately from your kitchen items in order to avoid any cross contamination. A great place to find inexpensive equipment is at second hand shops or garage sales. Get yourself a box or plastic tote to store this equipment and keep with your other crafting supplies.
Electric kettle
Liquid measuring cup
Small bowl (that is heat safe)
Measuring spoons
4 storage bottles (8 oz)
Small funnel
Ingredients
I purchased my wool wash ingredients through Bramble Berry and Vitacost. As of writing the blog post, it looks like the Lanolin-Ultra Refined is no longer available through Bramble Berry.
1 tsp Lanolin-ultra refined
1 cup boiling water
12 oz Natural Castile Liquid Soap Base
4 oz Pure Coconut Oil Soap
1/8 tsp Fragrance oil (be sure to make sure it is safe for soap making!)
Directions
In a small heat safe bowl, combine 1 tsp of lanolin with 1 cup of boiling water until dissolved. Set aside. In a liquid measuring cup, add coconut oil soap and castile soap. Stir to combine. Add 6 tsp of dissolved lanolin mixture to the liquid measuring cup. Add about 1/8 tsp of your desired fragrance oil. Stir to combine.
Using a funnel, pour wool wash into 4 bottles. Store in a cool dry place. (Separating is normal – just give it a shake!) To use, fill a sink basin or large container with water. Add about 1 tbsp of wool wash per 1/2 gallon of water. No rinsing required.
Congratulations on creating your very own gentle and natural wool wash! With this DIY recipe, your hand knit and crochet items will stay soft, clean, and oh-so-comfy, making washing days a breeze. Enjoy!