Celebrate Earth Day and spruce up your houseplant at the same time by making yourself a super fun and trendy Textured Houseplant Cozy! The pattern includes directions to make your cozy for any sized pot so you can treat all your houseplants to a new look!

Hello and welcome back to my blog! I have a fun new pattern to share with you today and that's the Textured Houseplant Cozy! Spring is fast approaching and to help speed it along, I wanted to make a crochet project that I could incorporate spring into the house. So I bought myself a houseplant and came up with this textured cozy!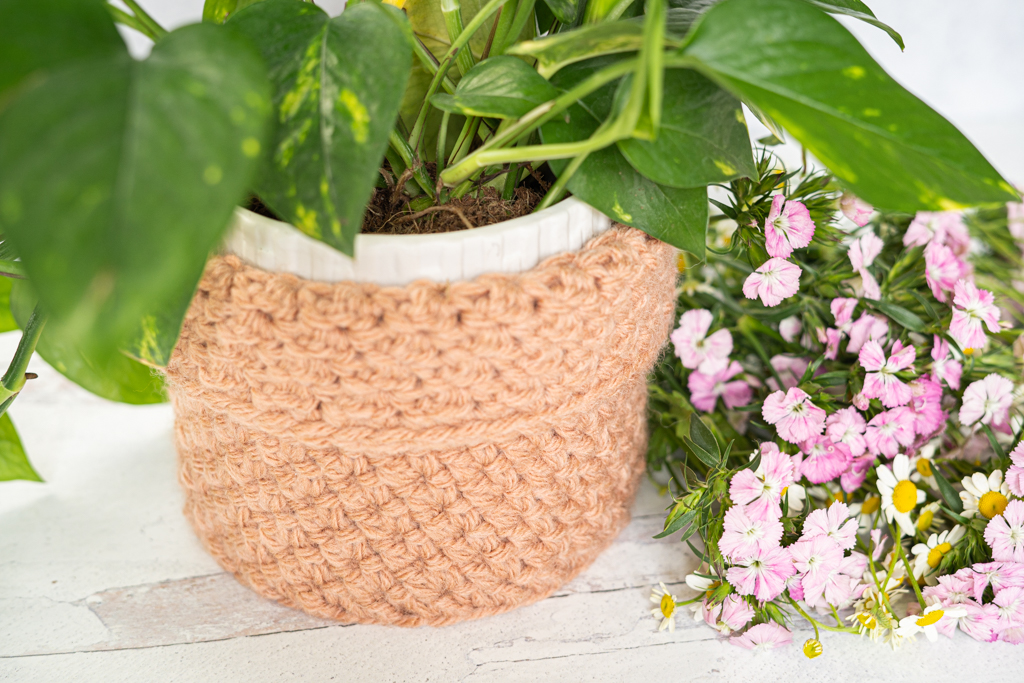 The Yarn
The yarn I chose for the Textured Houseplant Cozy was Lion Brand's Hue + Me. If you haven't tried it, it's a bulky weight wool-blend yarn thats very durable and works up super quick! And depending on the size pot your creating your cozy for, you could easily whip up a few in just one short afternoon.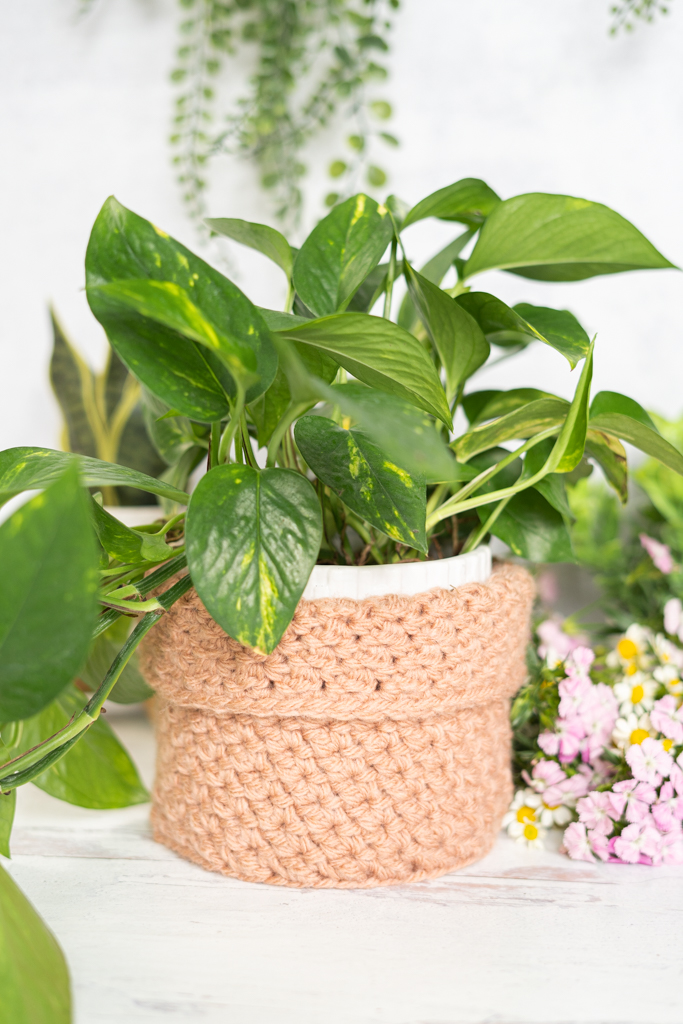 The Stitch
To give the cozy texture, I combined single crochet and double crochet stitches to give the stitches a bit more visual interest. The end result looks like an intricate textured stitch that is actually super simple and quite easy to do!
The stitches and crochet skills you'll need for the pattern include:
Chaining
Single Crochet
Double Crochet
Slip Stitching
If you've mastered the above crochet stitches and skills, I'm confident you can tackle this pattern.
TEXTURED HOUSEPLANT COZY WRITTEN PATTERN
Prefer to print? Learn about my membership program. Get big discounts on patterns or gain instant access to all my patterns and ebooks in one place! Click here to learn more information.
Only need the Textured Houseplant Cozy Pattern? Purchase the printable PDF here!
*This post may contain affiliate links.  Please see my disclosures page for more information.
All patterns on this blog are for personal use only and may not be redistributed, copied, blogged, or sold as your own.  You may sell items made by my patterns as long as the item is made by you personally (not mass produced) and that proper credit is given back to me and my site, Just Be Crafty. You may not use my photos for your online sales listings. 
For more information please see my Pattern Permissions Page.
SKILL LEVEL
FINISHED SIZE
About 5.5 (bottom diameter) x 6.5 in (height). (14 x 17 cm)
Designed to fit a pot that is about the same measurements listed above. To customize to fit any sized pot, see PATTERN NOTES section below.
MATERIALS
1 ball Lion Brand HUE  +ME in color Bellini
6.5 mm crochet hook
8 mm crochet hook
Yarn needle
Scissors
GAUGE
2 rounds crocheted in a flat circle = about 2 in. (5 cm) in half double crochet stitch using smaller hook.
BE SURE TO CHECK YOUR GAUGE.
KEY (US Terms)
ch chain
dc double crochet
hdc half double crochet
inc increase
rep repeat
sc single crochet
st stitch
sl st slip stitch
sk skip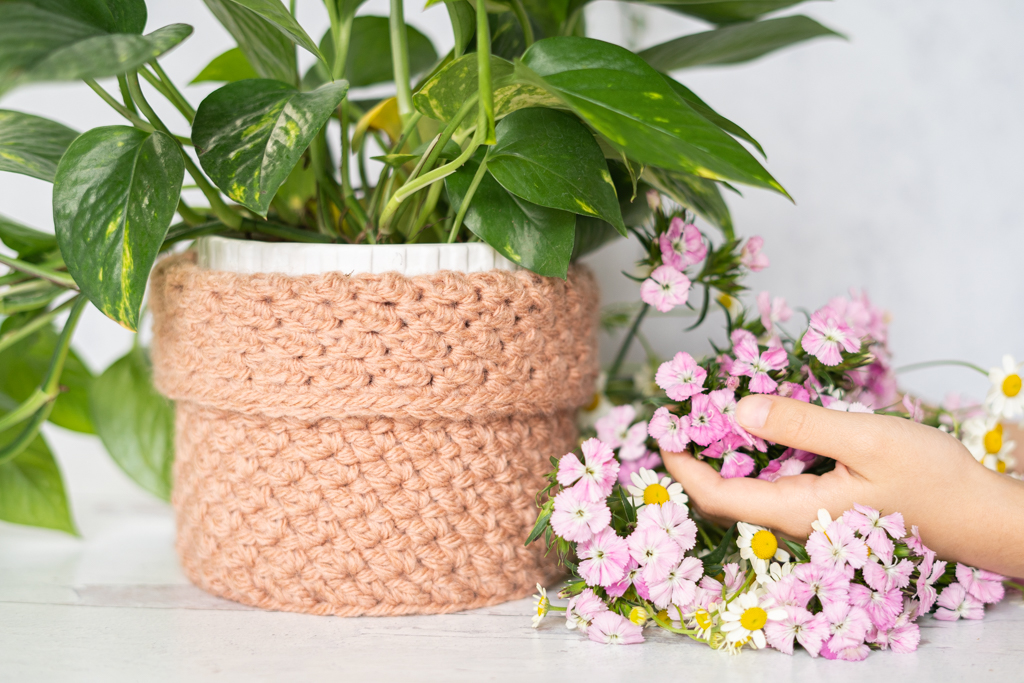 PATTERN NOTES
CUSTOMIZE
To customize houseplant cozy to fit any size container, repeat COZY BASE rounds until crochet circle is approximately the same size or slightly smaller than the bottom of the plant pot that will be used.
Making a larger sized cozy may require additional yarn balls.
COZY BASE
Each round will begin with a ch 2 (the ch 2 does not count as a stitch).
All COZY BASE rounds are worked in hdc. The pattern instructions list increase placement.
At the end of each round, join with the 1st st of the round using a slip stitch.
COZY BODY
Do not join rounds. Stitches are worked in a continuous spiral.
Replace marker into last stitch at the end of each round to keep your place.
Starting in Round 2, stitches will be placed in double crochet stitches only.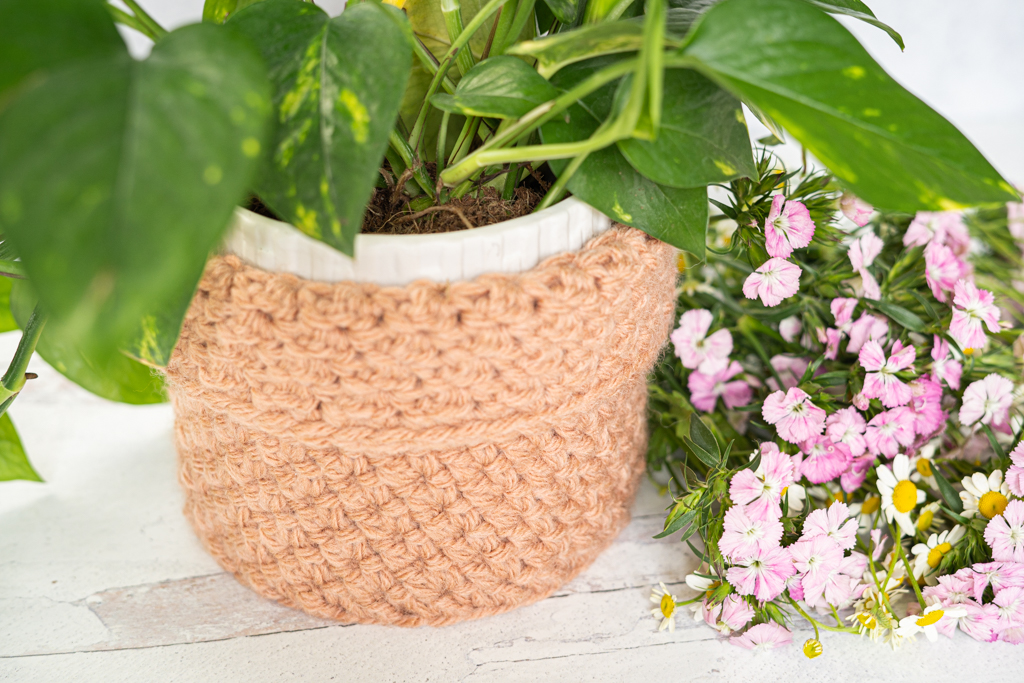 TEXTURED HOUSEPLANT COZY – Starts here:
COZY BASE
Round 1: With smaller hook, make 8 hdc in magic ring (8)
Round 2: Inc in every st (16)
Round 3: Inc in every 2nd st (24)
Round 4: Inc in every 3rd st (32)
Round 5: Inc in every 4th st (40)
Round 6: Inc in every 5th st (48)
COZY BODY
Round 1: Ch 1, *sc in 1st st, dc in next st; rep from * to end of round. Place marker into last st of round. (48)
Round 2: Sk first st, sc and dc into next st, *sk next st, sc and dc into next st; rep from * to end of round. Replace marker into last st of round. (48)
Rounds 3 – 16: Rep Round 2
EDGING
Switch to larger hook.
Round 1: Sl st into next st. Turn work. Sk the sl st you just made, sl st into next st and into each st of the round. Sl st into 1st sl st of round to join.
Cut yarn.
FINISHING
Weave in yarn ends.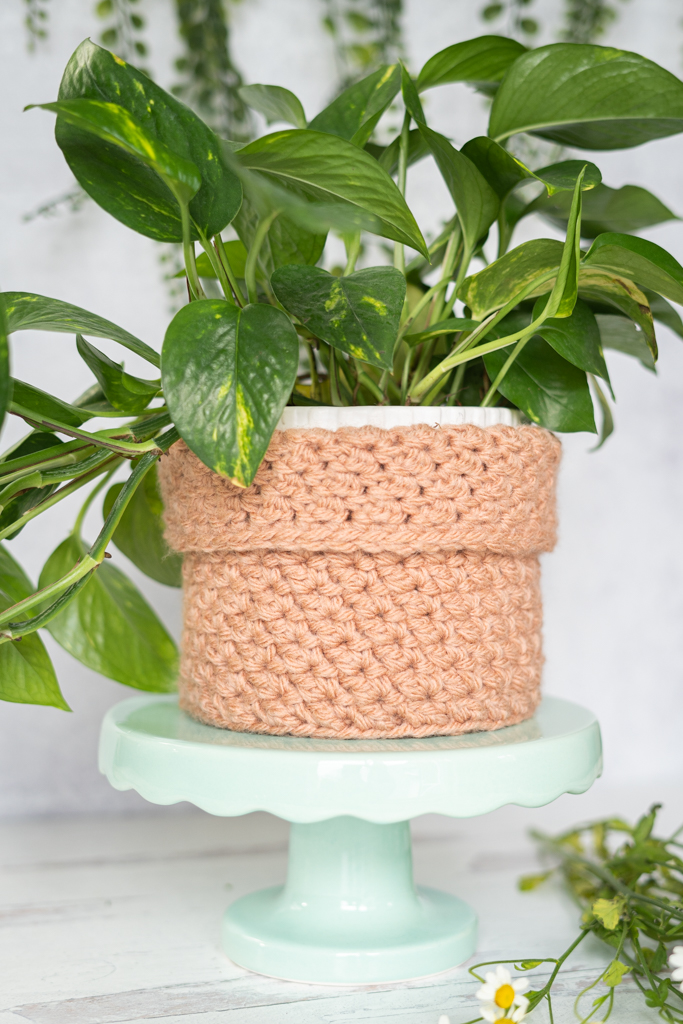 Enjoy!