Learn How to Knit the Seed Stitch + Video Tutorial
Learn to knit the Seed Stitch in this step by step video tutorial.  Once you've mastered this skill, try making the Simple Seed Stitch Dishcloth while you're at it!

What is the seed stitch?
The Seed Stitch is a stitch that is formed by alternating knit and purl stitches.
Knit and purl stitches are opposites of each other.  Meaning, when you complete a knit stitch, the front of that stitch is a knit stitch, and the back of that same stitch shows as a purl stitch.  AND When you complete a purl stitch, the front of that stitch is a purl stitch and the back of that stitch shows a knit stitch.  Cool right?!
Sound confusing? No problem, I show you exactly what I'm talking about in the video!
The fabric formed by the seed stitch is dense, stretchy, and reversible showing visible bumps on both the front and back of the work.  The little bumps in the fabric resemble seeds, thus the name – seed stitch!
I have used this stitch in a couple of my dishcloth patterns, feel free to check them out here, and here.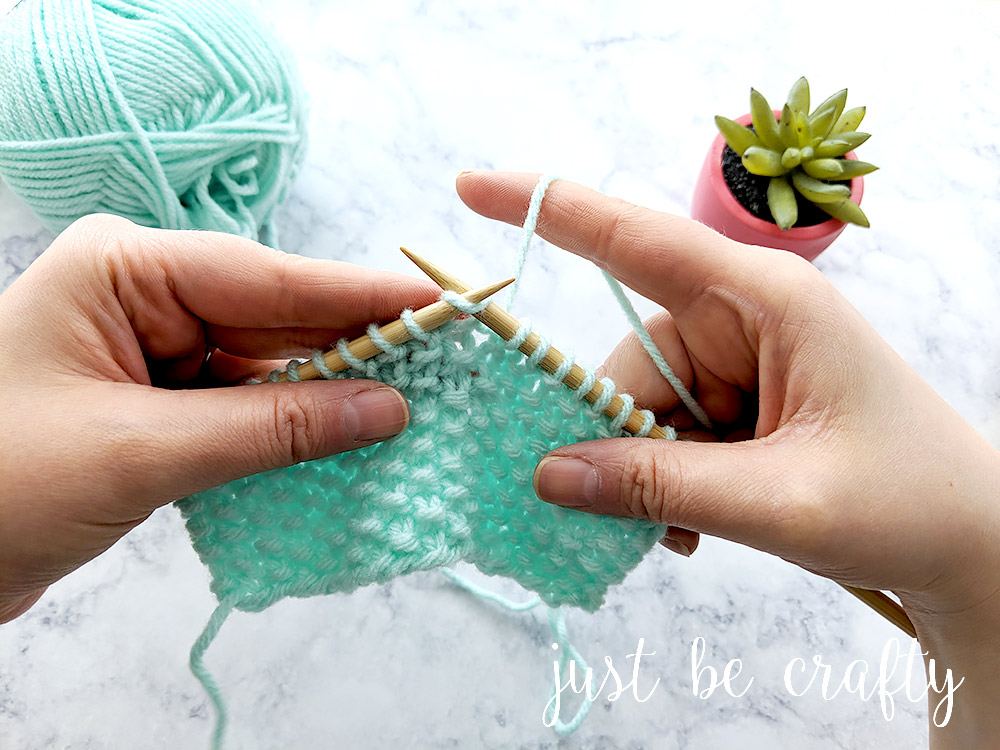 How is the seed stitch formed?
The first row of seed stitch is worked in knit 1, purl 1.  In proceeding rows, purls are worked into knit stitches and knit stitches are worked into purl stitches as they face you.
What can you make with the seed stitch?
There are so many things you can make with this stitch BUT, I have to say it's one of my favorites for making dishcloths and washcloths.  The Simple Seed Stitch Dishcloths are one of my absolute favorite projects.
I made the below set for myself back in 2013 and to this day I still use them!  The EXACT set pictured below! They may be a little stained and faded now six years later, but they still totally work!  The seed stitch middle makes for an awesome scrubby surface that's perfect for tackling any kitchen mess!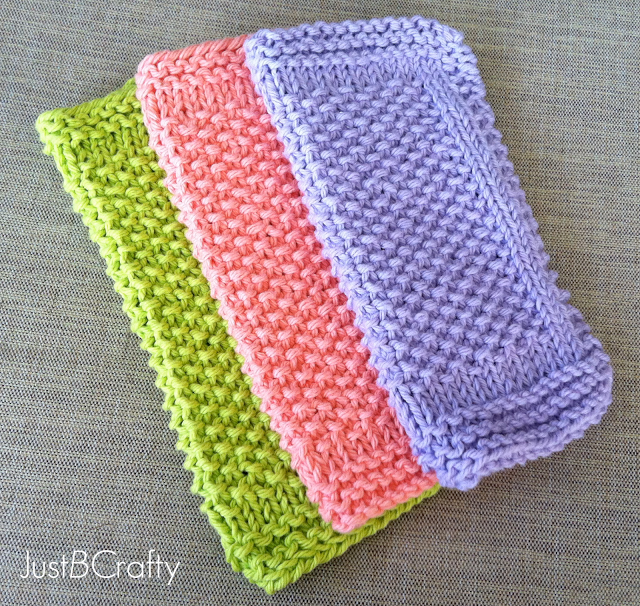 Seed Stitch Video Tutorial
In this tutorial, you will learn how to knit the seed stitch, and how to bind your seed stitch fabric off of your knitting needles.
Skill Level: Advanced beginner or higher and assumes you know the following skills:
How to cast on
How to complete the knit stitch
How to complete the purl stitch
Once you have mastered these above skills, you're ready to tackle this pattern!
Seed Stitch Pattern
This post contains affiliate links.  For more information please see my disclosures page.
Materials
Any yarn will work, but if you're a beginner I suggest a 100% acrylic, medium-4 weight yarn (I used Loops and Threads Impeccable Yarn in Skylight but Red Heart Supersaver is another great one and easy to find!)
Straight Knitting Needles (I used a US size 9.0, but you can use whatever you have on hand)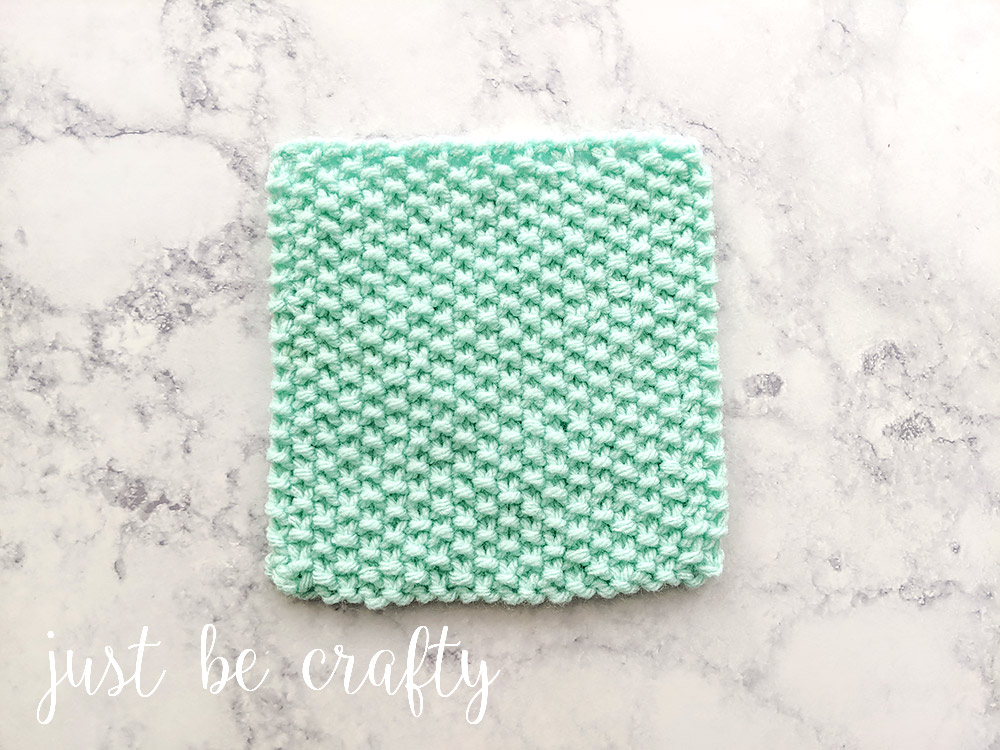 Pattern
Cast on any number for the Seed Stitch technique and it will work out.  Below lists Seed Stitch swatch instructions for both even and odd numbered cast ons.
For an even number cast on:
Example – Cast on 20
Row 1: *knit 1, purl 1; repeat from * to end
Row 2: Repeat Row 1 until desired length.
For an
odd

number cast on:

Example – Cast on 19

Row 1: knit 1, *purl 1, knit 1; repeat from * to end

Row 2: purl 1, *knit 1, purl 1; repeat from * to end

Repeat Rows 1 & 2 until desired length.

Bind off in seed stitch by alternating knits and purls.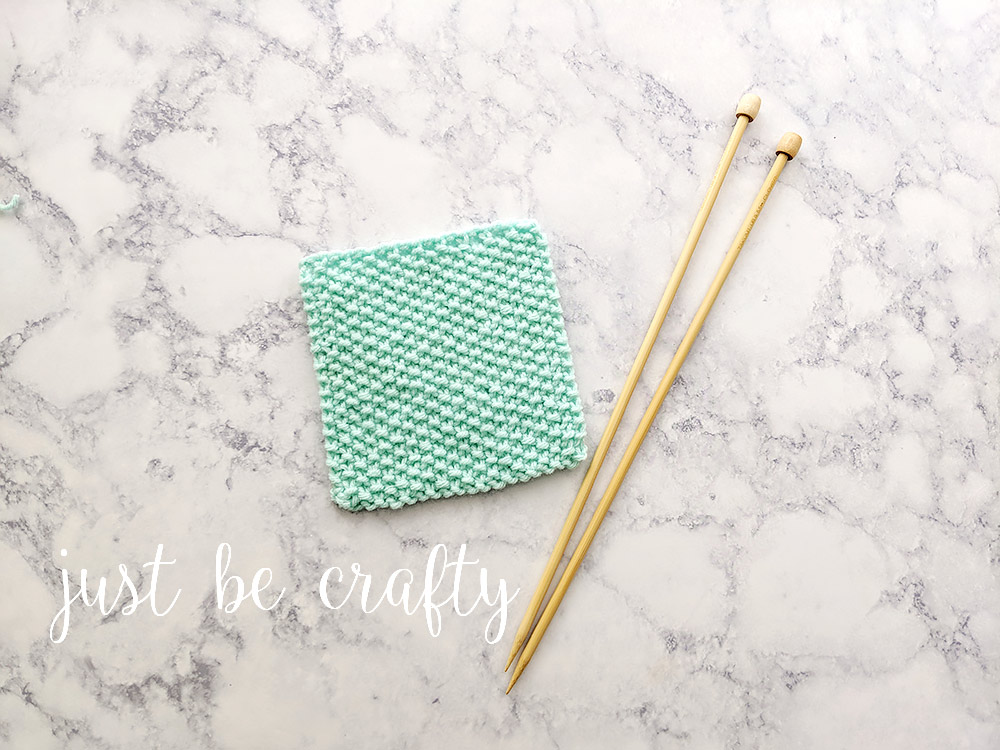 Enjoy!